There were further signs of the Toronto housing market heating up in December as the average price and number of sales both recorded big increases, while a sharp drop in listings indicated a tightening of supply.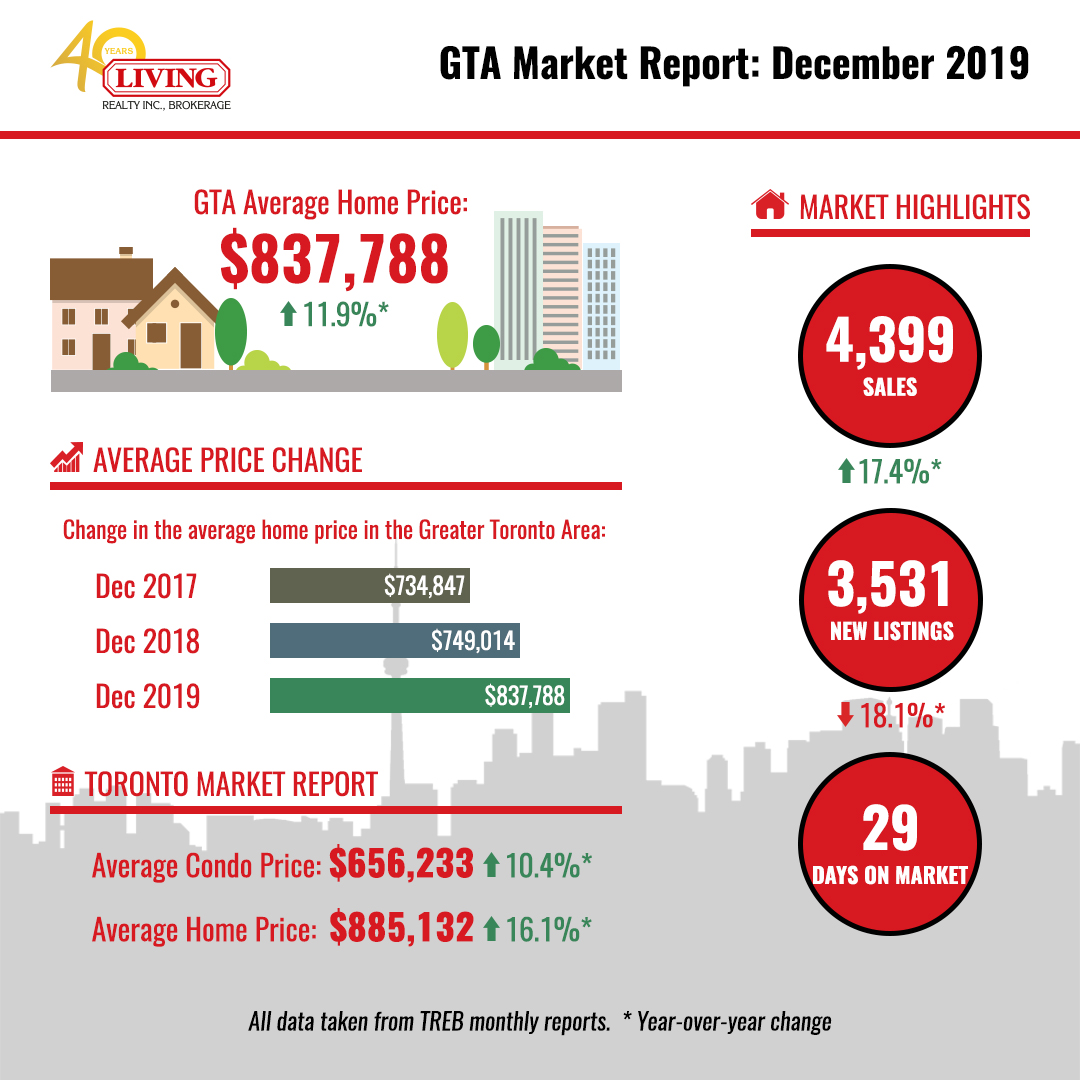 According to the latest report released by the Toronto Real Estate Board (TREB) this week, the average price of a home in the GTA in December 2019 was $837,788. That marked an 11.9% year-over-year increase and another step closer to the record price recorded in April 2017 ($918,184).
In the City of Toronto, the average home price was $885,132 – a slight drop from the previous month but an impressive 16.1% higher than the price recorded a year earlier. Peel region saw a similarly large year-over-year increase, with the average price rising 11.5% to $781,973. There were also healthy gains elsewhere, as York region's average price rose 6.9% and Durham region's rose 9.0%.
It wasn't just prices that recorded high rises. The number of sales across the month of December rose 17.4% year-over-year to 4,399. While this looks like a huge increase on the surface, it is in comparison to a very slow month in December 2018 and is actually more of a sign of a return to normal activity. In fact, the number of sales was slightly lower than the 10-year average for home sales in December (4,472).
When looking at the 10-year averages, the number of listings in December 2019 really starts to stand out. There was an 18.1% year-over-year decrease in new listings (3,531) and a 35.2% decrease in active listings (7,406). Those drops are significant enough on their own but become even more notable when we look at the numbers for the last decade.
The number of listings in December 2019 was the lowest total recorded for the month of December in the 2010s and is the only time it has dropped below 4,000. Meanwhile, the total for active listings was the second lowest for the decade, with only the super-hot market of December 2016 having a lower total. In fact, the active listings total for December 2019 is over 3000 less than the 10-year average.
The big drop in active listings occurred throughout the Greater Toronto Area, with many locations recording large double-digit decreases. In Toronto, there was a 28.1% year-over-year decrease in active listings, York region decreased 39.8%, Durham Region was 31.8% lower, Halton region went down by 38.3%, and Peel Region saw the biggest decrease of all: 41.0%.
What does all this mean? Well. The return to average sales numbers and the steady growth in prices suggests a return to a more balanced market. 2017 and 2018 were difficult times for many home sellers but a more stable market should create a better situation for anyone looking to sell in the new year, while also keeping the market reasonable for buyers.
However, the reduction in new and active listings might not be so positive for buyers. With demand returning once again but supply dropping considerably, there is a good chance that prices will rise in the near future. That's good news for sellers, who appear to be holding off during the winter, while buyers should probably start looking now to avoid a big jump in prices.