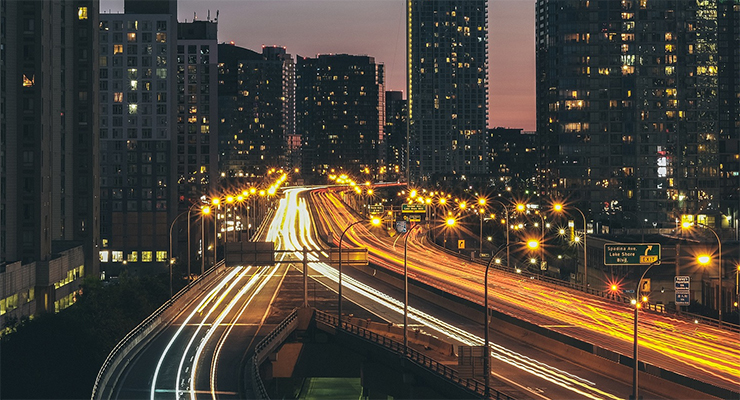 One of the biggest and most important considerations when buying a home is how it will affect your daily commute. The perfect home is no use if you are never there, so you want to weigh that consideration carefully. With this in mind, we looked around the GTA to find the best municipalities for commuters.
While Toronto will be the destination for many commuters, we took into consideration the fact that many major companies are based elsewhere in the GTA (such as ourselves!). We also looked at the type and cost of homes, to weigh the balance of affordability against travel times. After doing that, we complied our list of the six best municipalities for commuters in the GTA.
Vaughan
The commuting benefits of the City of Vaughan are almost endless. Centrally located and immediately north of Toronto, the city is pretty much at the centre point of the GTA – making all other places reachable within a reasonable timeframe.
There are also plenty of ways to get around. The city has two GO train stations (Maple and Rutherford) that both sit on the Barrie to Toronto line and offer journeys to Union station in downtown Toronto in as little as 31 minutes. Vaughan is also the only place outside Toronto with TTC subway stations. The stations at Vaughan Metropolitan Centre and Highway 407 offer lots of parking options and rapid transit into Toronto. In terms of highways, the 407 ETR slices through the southern end of the city, while Highway 400 heads north to south through the centre of the city to give plenty of high-speed options for drivers. To the very west of Vaughan, at its border with Brampton/Mississauga are highways 27 and 427 which service that side of the city.
Vaughan also ranks well when it comes to real estate. Detached homes are relatively expensive, with the average price of $1,192,482 in May 2019 making it the fifth most expensive municipality for detached homes in the GTA. However, Vaughan also boasts a lot of condos, especially in the growing Vaughan Metropolitan Centre district, which boasts many new condos and is located next to the subway. That means there are options that are affordable for most budgets and puts it high on the list of commuter-friendly locations in the GTA.
Pickering
If you're heading to downtown Toronto but want to live out in the suburbs, the towns and cities to the east of Toronto could be a good choice. Pickering, Ajax, Whitby and Oshawa sit in a row on the shore of Lake Ontario and share the same commuter-friendly benefits.
Each of the municipalities has a GO train station in the Lakeshore East line, which goes all the way to Union Station. They all have convenient access to Highway 401 – the GTA's busiest and most important highway. And, in general, they all able to offer more affordable options for single family homes than other municipalities located next to Toronto.
The reason that Pickering gets our vote out of these four municipalities is because it can offer just a little bit more for commuters. Firstly, the city borders Toronto and that helps to reduce travel times. For example, the train service to Union Station can take as little as 31 minutes. Secondly, there are lots of new home developments that are particularly appealing as they offer affordable introductory prices. For example, the recently released Forest District Towns offers townhomes from the low $500,000s, while NuTowns is set to launch a new set of townhomes this weekend. If you would prefer to look at the resale market, prices are still competitive, with the benchmark price of detached homes at $750,000 and condos at $504,800 in May 2019.
Markham
Located to the immediate north of Toronto, Markham has seen its population almost doubled in the last 20 years, with its commuting potential one of the major factors.
Within the city boundaries, there are four GO train stations: Mount Joy (Markham Road and Bur Oak Avenue), Markham (Main Street and Bullock Drive), Centennial (McCowan Road and Bullock Drive), and Unionville (Kennedy Road and Enterprise Boulevard). These are all located on the Stouffville line of the Go train network and journeys to downtown Toronto take as little as 41 minutes.
Trains aren't the only transit service on offer in Markham. YRT buses operate across the city and on much of highway 7 they drive on a separated right of way, allowing traffic free journeys even at rush hour. Meanwhile, there are lots of options for commuting by car thanks to easy access to Highway 407 ETR and Highway 404, plus the expansive, high speed regional roads to the north and east of the city.
Perhaps one of the greatest commuting benefits of Markham is the fact that you might not have to leave the city to go to work. The city is regarded as one of Canada's high-tech capitals, with many major companies like IBM, AMD, Toshiba and Huawei now located there. Along with a thriving new downtown and business friendly locations like the Yonge and Steeles area where Living Realty's head office is located, this is a city that gives commuters the option of not travelling far at all.
Mississauga
Mississauga's population has almost doubled since 1986 and it now ranks as the sixth most populous municipality in Canada (behind only Toronto, Montreal, Calgary, Ottawa and Edmonton). One of the driving reasons for this growth is the city's position as a great commuter location.
Bordering Etobicoke in the west of Toronto and stretching from Lake Ontario to Pearson airport, the city covers a vast area and is connected to the rest of the GTA in a number of ways. In addition to Canada's busiest airport, there are five GO train stations located in Mississauga – from Lisgar Station in the northwest of the city to Dixie Station in the east – and the travel time to Union Station is as little as 32 minutes depending on where you board the train. Mississauga also offers lots of choice for car drivers. The QEW, and Highways 401, 403 and 407 ETR all pass through the city – offering a range of travel options regardless of your direction. Travel within the city is also impressive, with rapid transit bus services in operation and a new light rail set for completion in 2022.
From a quality of living perspective, Mississauga also ranks high. Four of the city's schools rank joint-first for elementary schools in Ontario, with a further five sitting in the top 100 out of 3046. The impressive rankings continue with the secondary schools, with six ranking in the top 100. Usually these things come at a cost in real estate but Mississauga ranks just 9th out of 14 municipalities for the average price of condo apartments ($477,965 in May 2019) and 7th for the average price of semi-detached homes ($736,417 in May 2019). Detached homes are a little pricier ($1,098,973 average price in may 2019) but there's no denying that there are plenty of affordable options in the city, especially when some of the impressive new developments in Mississauga are taken into consideration.
Milton
To the immediate west and southwest of Mississauga, you will find the popular towns of Milton and Oakville. Both city on GO train routes (on the Milton and Lakeshore West lines, respectively) and both rank highly for quality of living. According to the latest MoneySense rankings, Oakville is the best place to live in Canada, while Milton comes in 7th place. Both towns get marks for low crime, good weather, excellent healthcare options and impressive amenities.
While they share many of the same qualities, we opted for Milton because it is more affordable than Oakville so you get more for your money. The average price of homes in the town in May 2019 was $934,969 for detached, $772,262 for semi-detached, and $484,224 for condos. While more expensive than some other options in this list, the quality of life is excellent and that will be worth the extra cost for many people.
In terms of travel within the GTA, there are perhaps fewer options but commuters should be satisfied. As the first stop of the Milton line, travelers can expect to find plenty of seats available and a journey time to downtown Toronto of approximately one hour. For car drivers, Highways 401 and 407 ETR are both easy to access and the 407 in particular will be able to get you across the GTA very efficiently.
Newmarket
Located in the north of York Region, Newmarket has grown considerably in recent years thanks to its potential as a commuter town. Despite its recent growth, it still retains a small-town feel, with areas like the historic Main Street proving popular to residents and visitors. In fact, Newmarket is ranked as the 23rd best place to live in Canada (and 10th best in Ontario)
For commuters, the town has specific appeal thanks to the GO train station located just steps away from Main Street. That transit hub offers journeys to downtown Toronto in around an hour – less than some other places can boast but still offering a reasonable commuting time for many. Highway 404 is also a short drive away, giving easy access to many other places in the GTA, including nearby Aurora, Richmond Hill, Whitchurch-Stouffville and Markham. With so many major centres within easy reach, it's clear why many people have chosen to make their home here.
It's not just about journeys and quality of life, though. Newmarket also appeals because of the general affordability of homes. While detached homes are out of reach for lots of buyers elsewhere in the GTA, in Newmarket the average price was $842,727 in May 2019, while the median price was $800,000. Looking at benchmark prices, the picture gets even better as the price for a typical detached home is $778,300. Similarly, the benchmark price is $537,300 for a semi-detached house and $464,900 for a townhome.