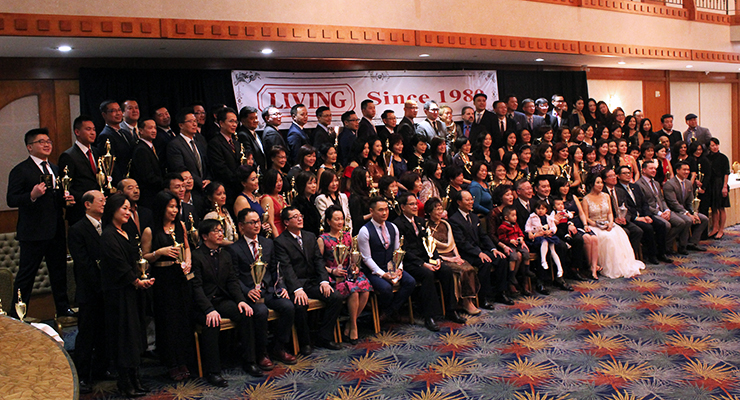 Each year in December, Living Realty's top-performing real estate sales representatives are honoured with special awards in recognition of their dedication, contributions, and hard work. These include:
The Sales Achievement Award, Success Club Award, Award of Distinction, and President's Award, each recognizing a progressively higher level of sales success.
The Top Producer Award, recognizing the agent(s) with the highest sales volume in their branch.
The New Home Sales Silver, Gold, and Platinum awards, recognizing excellence in selling newly-developed and preconstruction properties.
The Path to Excellence award, recognizing the contributions of outstanding agents who have joined our team within the past year.
The list below contains the names of our 2015 award winners. Click on the name of an agent to have a look at his or her web site!
Brokerage-Wide Top Producers
Top Producers by Branch

ICI 
LEUNG, ANDY
Mississauga 
WANG, NAIDAN
North Markham 
PARK, JIMAN JAMES
North York  
YANG, HONG
Woodbine 
WAN, BONNIE
Woodbine 
WAN, DANIEL

Presidents Award Recipients

ICI 
HUANG, ANITA
LEUNG, ANDY
QUAN, ISAAC
TRAC, YVON
WONG, ANGELA
WOO, PETER
Mississauga 
HO, HELEN
KE, PING
LAU, NIXON
MA, TONY
MAK, DONNA
MARK, DAVID
MENG, HELEN
TONG, KEN
TU, CINDY
WANG, HUI
WANG, NAIDAN
YEO, MICHAEL
ZHANG, LESLIE
North Markham 
CHAN, OSCAR
CHAN, SHEBY
CHENG, EDDIE
HE, MAGGIE
HE, SILVIA
JIM, FANNY PUI LAN
KONG, ADRIENNE
KWOK, SALLY
LAI, AMY
LAI, VICTOR
LAU, RUBY
LEE, HELEN
LIANG, MAY
MALEKI, MONA
PANG, SERENE
PARK, JIMAN JAMES
SO, RAYMOND
TO, ROSA
WONG, DANIEL
YAU, RANSOME
YUEN, MARY
ZHAO, TRACY
North York  
CHAU, THOMPSON
CHENG, ZUNY
CHIU, GEORGE
CHOW, DANIEL
MAK, ANGELA
YANG, HONG
ZHAO, WEIDONG
Woodbine 
CHAN, DAN
CHIANG, ANDREW
CHO, CHRISTINE
FENG, ANDY
GULAMHUSEIN, DIAMOND
GULAMHUSEIN, RAZIA
LAM, DAVID
LEE, FANNY
LIU, SAM
LUI, SHIRLEY
NG, JANMEI
NGAN, EDDIE
WAN, BONNIE
WAN, DANIEL
WANG, ANDREW
WEI, PRISCILLA
WONG, KARL
ZHU, CHRISTINE

Award of Distinction Recipients

ICI 
FONG, WILLIAM
LIM, BRUCE
LYN, JUSTINA
Mississauga 
CHEUNG, WILLIAM
CHOY, ANNA
FONG, IRIS
GUAN, WEI
LEUNG, EDWARD
LO, IAN
WONG, YIU-MING
ZHAO, JUNE
North Markham 
FONG, ANGELA
HO, SAMMY
LEE, EDITH
LEE, YANNY
LIM, ABRAHAM
TO, DEREK
TSUI, STELLA
YANG, YANG
North York  
ENG, HEIDI
JAMES, MICHAEL
LAM, OWEN
Woodbine 
CHAN, BERNICE
CHENG, REGINA
DECARLE, DAVID
HENDERSON, BILL
LEUNG, MICHAEL
LU, TRACY
NG, IVY
NGO, TOMMY
TONG, DICK
TONG, EVAN
TU, AMY
WAT, WEDDY
YOON, DANNY
YUM, TONY

Sales Achievement Award Recipients

ICI 
PROCHILO, TONY
WONG, MING
Mississauga 
HO, CHRISTOPHER
LAI, TONY
LEE, KOLA
SU, MINDY
TRAN, THIET
TSUI, SHELDON
WANG, JESSY
WONG, KIEW
YAU, JORRIE
North Markham 
CHAN, CINDY
CHAN, TERRY
CHEUNG, ALAN
CHOW, ALEX
HAU, THEODORE
LEE, PATRICK
SHIRALI, MARJAN
YIU, STEVEN
North York  
CHIANG, KENDRICK
CHO, MATHEW
CHOU, SHELDON
HAI, SONG
KIM, SUNNY
LEUNG, OLIVIA
LUI, HILDA
MA, NANCY
WONG, GRACE
Woodbine 
CHAN, WILLIAM
CHEUNG, CHRISTINA
CHEUNG, PATRICK
CHOI, THOMAS
CHU, STELLA
CHUI, STEVE
ENGEL, ARIELLA
GULAMHUSEIN, ALI
GULAMHUSEIN, NOORIN
KIM, HENRY
LE, ROSE
LEE, MATTHEW
LIU, GRACE
LUI, STANLEY
NG, EVA
YAN, THERESA

Success Club Award Recipients

ICI 
AU-YEUNG, ALICE
CHEUNG, STEVE
LEU, WALTER
LEUNG, FRANK
YAN, JANETH
Mississauga 
FUNG, ANN
LI, SHIRLEY
WONG, JECA
North Markham 
CHIANG, PAUL
CHUN, SONIA
GUO, NANCY
JIN, BRUCE
LEUNG, SHIRLEY
LUI, ANNA
POON, PETER
North York  
LIU, ALAN
YOON, MIKE
Woodbine 
LEUNG, MICHAEL
SY, CHRIS
WANG, JIA
YEUNG, KARRIE
YU, YAN

New Home Sales Award Recipients: SILVER

ICI 
HUANG, ANITA
KEUNG, ANDY
QUAN, ISAAC
Mississauga 
LI, SHIRLEY
MENG, HELEN
WANG, HUI
WONG, KIEW MUN
North Markham 
AMY LAI
DEREK TO
SHEBY CHAN
SONIA CHUN
TERRY CHAN
YANNY LEE
North York  
MAK, ANGELA
Woodbine 
GULAMHUSEIN, NOORIN

New Home Sales Award Recipients: GOLD

ICI 
AU-YEUNG, ALICE
Mississauga 
MARK, DAVID
YEO, MICHAEL
North Markham 
RANSOME YAU
ROSA TO
North York  
CHAU, THOMPSON
CHOW, DANIEL
Woodbine 
CHEUNG, CHRISTINA
CHIANG, ANDREW
CHUI, STEVE
GULAMHUSEIN, RAZIA
LUI, STANLEY
WANG, ANDREW
WEI, PRISCILLA
ZHU, CHRISTINE

New Home Sales Award Recipients: PLATINUM

Mississauga 
LAU, NIXON
TONG, KEN
WANG, NAIDAN
North Markham 
CHEUNG, ALAN
WONG, DANIEL
North York  
YANG, HONG

Company Wide New Home Top Producer

Mississauga 
TONG, KEN

Path to Excellence Award Recipients

ICI 
WONG, MATTHEW
Mississauga 
ZHANG, EVA
AU, LOUIS
North Markham 
LIU, JASON
GUO, NANCY
North York  
KIM, KIMBERLY
Woodbine 
KIM, ALBERT
CHAN, BERNICE