TORONTO – Just a stone's throw away from Toronto's historic Flatiron Building, two newly-finished condominium communities – the sophisticated Berczy and the architecturally ambitious L Tower – have brought a substantial new influx of homeowners to the (once predominantly commercial) neighbourhood that also hosts the popular Sony Centre for the Performing Arts.
To step up to the challenge of providing those new residents (and their canine friends) with suitable options for outdoor recreation, the renowned landscape architecture team at Montreal-based Claude Cormier Associes have designed not just one, but two public gathering places for the neighbourhood.
Outdoor Plaza – Sony Centre for the Performing Arts
Scheduled for completion and opening next summer, Cormier's design for a new outdoor plaza spanning the west side of the Sony Centre for the Performing Arts (extending to the L Tower's northern façade) will serve as a tribute to the work of two famed architects: Peter Dickinson, who designed the Sony Centre, and Daniel Libeskind, who designed the L Tower and was also a key player in designing the Royal Ontario Museum's renowned "Crystal."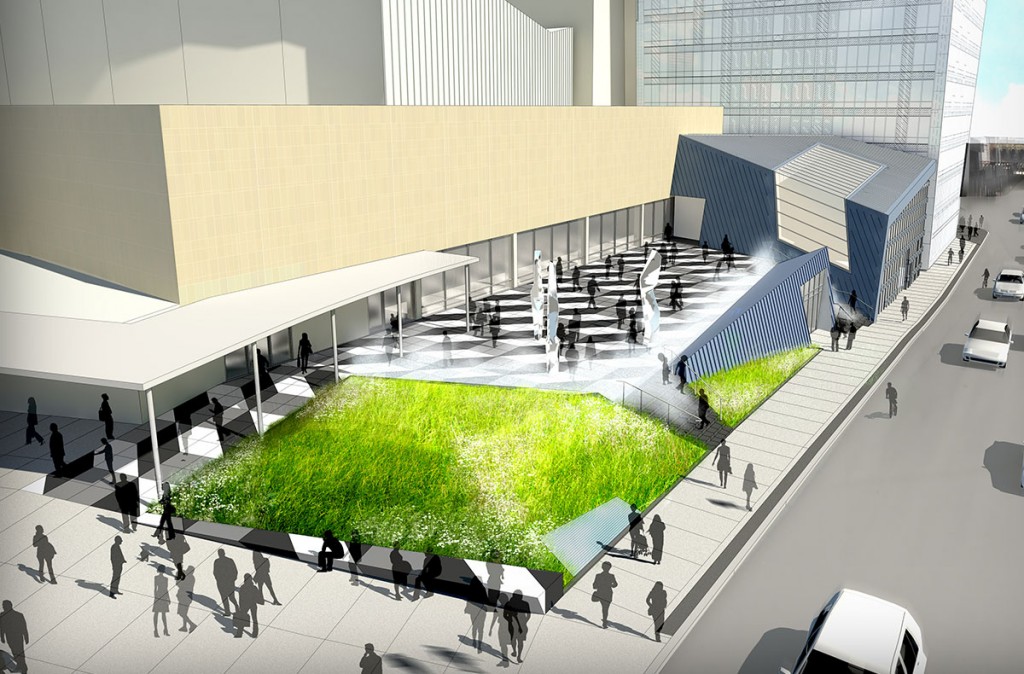 Designed to encourage social engagement among neighbourhood residents and visitors alike, the completed plaza will include public art, green space, and seating as well as tables for public use.
"The space had to incorporate the existing geometries and the architectural compositions of the two buildings," Cormier told the Star's Christopher Hume earlier this month. "It wasn't just about putting in plants."
Berczy Park
Not to be confused with Markham's newer park of the same name, Toronto's 35-year-old Berczy Park occupies the rest of the wedge (between Front Street East and Wellington Street East) that extends from Scott Street to Church Street, culminating in the Flatiron Building's distinctive triangular tip.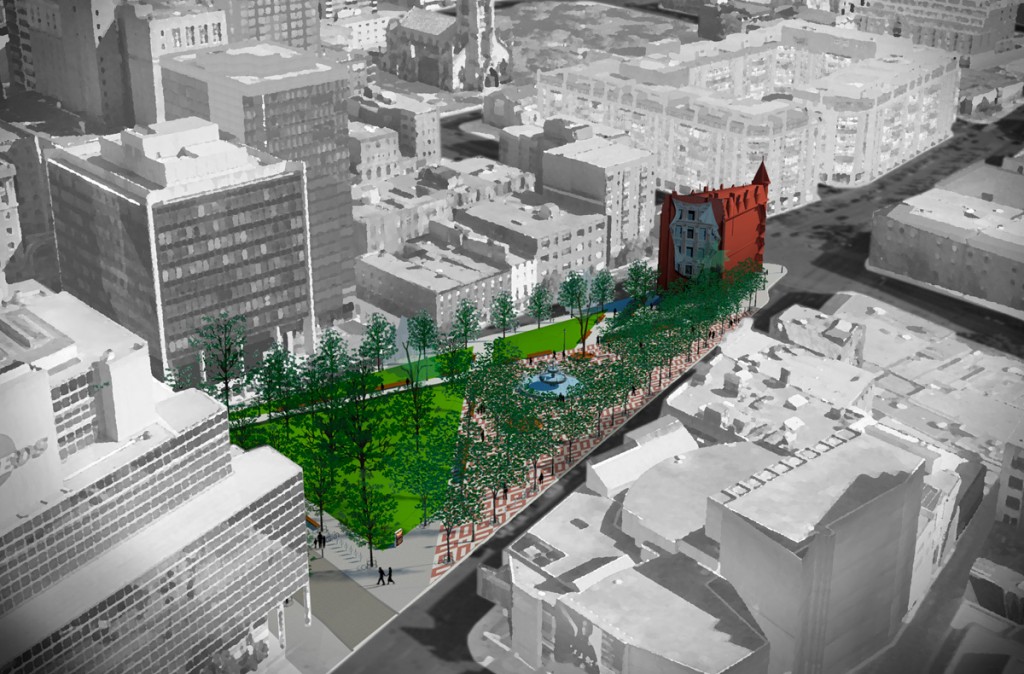 Designed with the area's many dog owners in mind, Cormier's design for a full-scale revitalization of the park – which began construction following the conclusion of the Pan Am Games last month – includes plenty of additional seating, artistic two-tone paving, and a large centrepiece fountain that will double as a summertime watering hole for neighbourhood pets.
About Claude Cormier
A recipient of multiple architectural awards and honours, Claude Cormier's considerable portfolio of Toronto landscape designs also includes work on the upcoming Daniels Waterfront master-planned community, and the Azure Award-winning (2015) design for the Four Seasons Hotel and Residences on Yorkville Avenue.