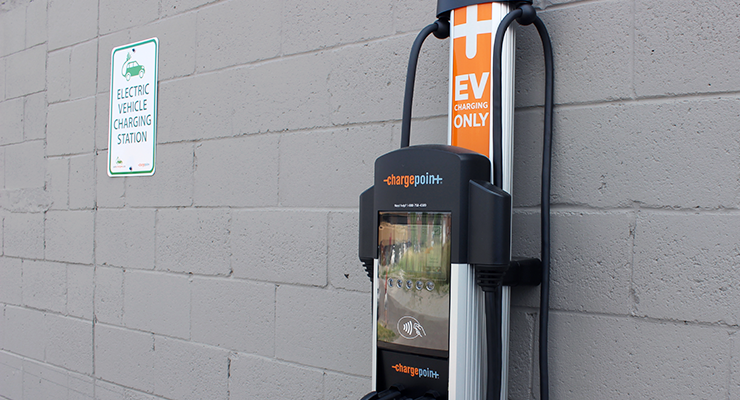 TORONTO – To help better serve our customers and reduce the Living Group of Companies' environmental footprint as an organization, the Company is pleased to unveil two new electric vehicle charging outlets at its Head Office, 8 Steelcase Road West in Markham.
Located at the rear of the building, the charging station is powered by two interior electrical panels. Clients, visiting sales agents, and staff can use the station by obtaining a card, which can then be loaded up and swiped at the machine to fill up on charge.
"We had the idea to install the charging station after I personally purchased an electric vehicle," explained Elliot Taube, President of the International Home Marketing Group (which shares the same building).
"I consider myself an early adopter – and I love the car – so this is a great way for us to accommodate others who've made the same switch."
As consumers become more environmentally-friendly, the shift from gas-fueled vehicles and hybrids to fully-electric vehicles – such as the super-compact Nissan Leaf and the sporty Tesla Model S – has led to vehicle charging stations being installed not only at many workplaces, but in some newer condominium developments as well (we featured some in a recent edition of the Green Home series).
Living Realty clients and sales representatives interested in obtaining a card for the charging station are encouraged to get in touch with us using the quick and easy Contact Form on this web site. Be sure to include "Charging Station" in the subject line, so that we know how to direct your message!