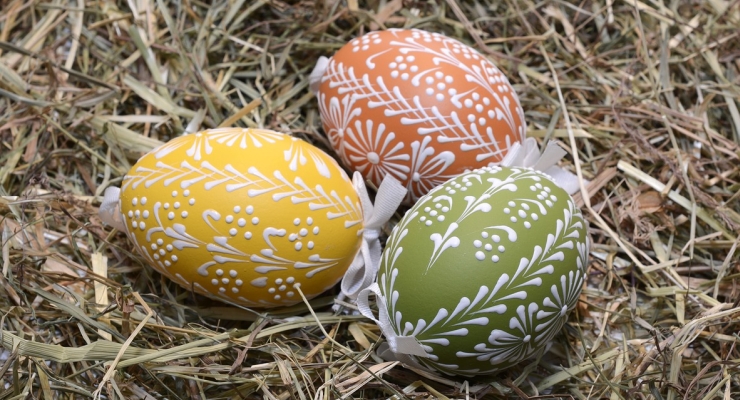 The weather's getting better, winter may well be behind us (fingers crossed) and we have a long weekend to look forward to.  Let's make the most of it: here's a little list of things you can do in Toronto and the GTA over the Easter long weekend.
Hunt for Easter Eggs
This is one for families and there are plenty of options to choose from, with Easter Egg hunts and the more exciting sounding Easter Eggstravaganzas being offered throughout the GTA and further afield. Some have more activities than others and some take place on more than one day, but most require payment and ask for tickets to be bought in advance, so make sure to check out the details at your chosen hunt.
Among the local highlights we found are the Centre Island Easter Eggstravaganza on Toronto Islands, the High Park Easter Egg Hunt, Easterfest at Downey's Farm just outside Brampton, and the Springridge Farm Easter Festival close to Milton, plus many more smaller events.
Head to a National Park
For those of you who have been hibernating, 2017 is Canada's 150th birthday – or sesquicentennial if you prefer a bit of a tongue twister – and one of the big bonuses is that there is free admission to all of Parks Canada's national parks, national historic sites and marine conservation areas. And there are plenty of options to choose from in Ontario including Thousand Islands National Park, Georgian Bay Islands National Park, Bruce Peninsula National Park, Point Pelee National Park, Pukaskwa National Park, Fathom Five National Marine Park, Lake Superior National Marine Conservation Area and a large variety of historical sites.
If you are planning on visiting any of these wonderful places, you need a discovery pass to gain free entry. If you don't have one yet, don't order online because they will take a while to arrive. Instead, Discovery Passes can be picked up at a variety of places including MEC stores and branches of CIBC.
Go See an Easter Parade
While Canada is 150 this year, the Beaches Lions Club Easter Parade is celebrating its 50th birthday. Running since 1967, the parade is one of the highlights of the Easter weekend in Toronto and draws thousands of spectators each year. Get yourself a good spot on the route along Queen St East and you can enjoy the sights and sounds while indulging in handfuls of free chocolate.
Go to the Zoo
We aren't the only ones enjoying the nicer weather. With things warming up, there will be more animals outside at Toronto Zoo and it will be an excellent place to spend a day. For an added treat, the zoo has a Connecting With Wildlife Conservation theme for the four-day weekend, with interactive stations throughout the zoo offering visitors the chance to connect with wildlife conservation. It's a fun visit for people of any age and there's more than enough to keep you entertained for an entire day.
TIFF Kids
If you've got children then this one might be high on your list. The TIFF Kids International Film Festival began on 7 April and continues through to 23 April. There are events every day, with "Pancakes, Waffles, Garfield and Friends!" on Saturday morning catching the eye – and taste buds –  of this writer. Tickets need to be bought for each event and they are available online.
Got to a Museum or Gallery
We're blessed with plenty of museums and galleries in the Greater Toronto Area, so why not take the time to visit one while you have a few days off. The ROM is always popular and has scavenger hunts for children on Sunday, the Hockey Hall of Fame has a special exhibit celebrating 100 years of NHL hockey, and the AGO has special family Sundays for families to enjoy.
Of course, there are many more wonderful places to enjoy both in Toronto and further afield and the bonus for the Easter weekend is that perhaps they will be emptier than usual while other people take the chance to head outdoors.
Play Golf
A number of clubs are already open for the season, there's no snow on the ground and it looks like we're going to get some beautiful weather – which makes this the perfect weekend to grab your golf clubs, stretch your legs, step outside and get the rust out of your game. And if you need some help picking a course, we have a handy guide to some of the best York Region golf courses.
Check Out the Spring Flowers
What better way to celebrate spring than viewing some of the beautiful flowers on show at Allan Gardens and Centennial Park Conservatories? The 2017 Spring Flower Show is already in bloom and it will be enhanced over the weekend with the 2017 Easter Show. You can expect to see an abundance of beautiful flowers at both locations and over the weekend the conservatories will be decorated for Easter and more flowers brought in to add to the charm.
Fire up the Grill
Some of us have been braving the snow and cold and cooking burgers through the winter. For those who haven't, now might be the time to dust off the barbecue, make sure you have enough propane and get out into the back garden for an outdoor meal. There's nothing quite like a good barbecue and the weather looks like it will be perfect on at least a couple of the days during the long Easter weekend.
Look for Houses
Of course, if you are in the market for a new house, you can always use the time to go to one of the open houses being hosted over the weekend. With other people distracted by the long weekend and chocolate, you may just find yourself with a bit less competition. Although we can't promise there will be chocolate at any of them!