New GTA real estate market data released by the Toronto Regional Real Estate Board (TRREB) yesterday showed that prices in the GTA are still up high compared to last year, but there were signs that the market has begun to cool somewhat.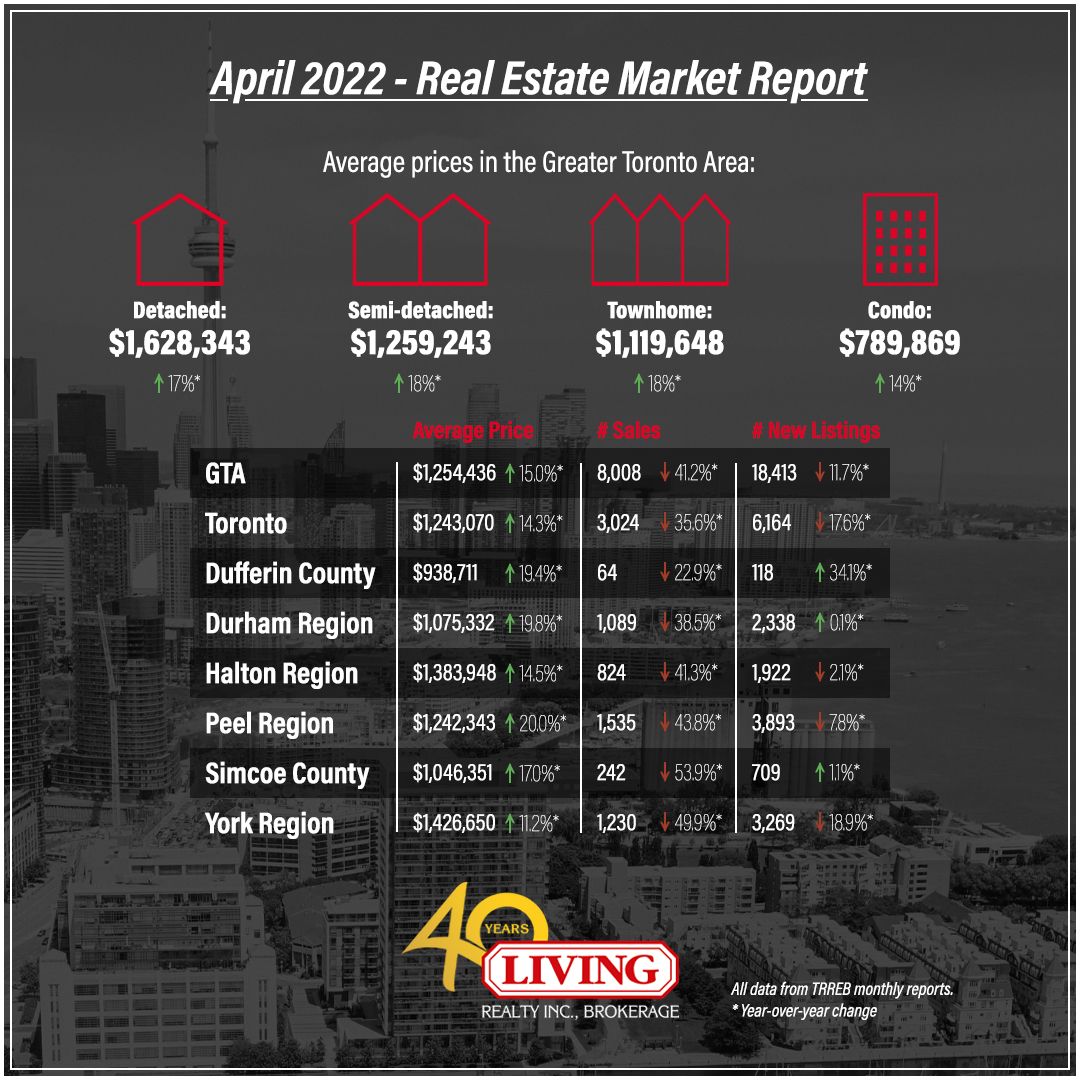 The TRREB report for GTA real estate market activity in April showed that the average price of a home in the Greater Toronto Area was $1,25,436 – 15% higher than the same month last year but, notably,  down 6% compared to the record price set two months earlier. This pattern was repeated in most areas defined by TRREB, with the year-over-year increases being offset by decreases from recent record highs.
Durham Region, which has been one of the hottest areas for real estate in recent months, showed a 19.8% increase compared to a year ago but a 12.5% from its record in February. Similarly, York Region was up 11.2% year-over-year but down 10.1% since February and Peel Region was up 20% year-over-year but down 5.7% since February.
One exception to the general decreases that were observed in the GTA real estate market was the City of Toronto. There had been anecdotal reports that the market was still strong in the city and the data backs that up. The average price of a home in the city in April was $1,243,070 – a new record. This is perhaps an indication of more solid fundamentals in Toronto, combined with demand that is increasing as people continue to return to offices in downtown.
According to the TRREB report, there were massive year-over-year decreases in the number of homes sold, ranging from decreases of 22.9% to 53.9% in the different regions and down 41.2% across the GTA as a whole. However, the data is skewed somewhat by an unusually active April 2021, so a better comparison is found by looking at averages across a number of years.
If we ignore the April 2020 results (which were well down from normal figures because of Covid-19 lockdowns), the average number of sales in the GTA in the previous 10 Aprils was 10,442. The total number of sales for April 20221 (8,008) was 23.3% lower than this average and gives us a better of picture of where sales currently stand.
New listings were also down 11.7% year-over-year according to the GTA real estate market report, but this is similarly skewed by the unusually strong activity in April 2022. Using the same approach as above and excluding the April 2020 outlier, new listings last month were actually 4.1% higher than the 10-year average. This would usually be positive news for supply but, according to the TRREB data, there is still a record low of just 0.9 months of inventory available across the GTA.