Whether you live in Markham, Mississauga, North York, downtown, or anywhere else in the GTA, one thing is for sure: in the competitive Toronto real estate market, interiors are every bit as important as curb appeal!
Last week, we did a survey on our Facebook Page presenting our readers with a design question: which type of kitchen backsplash adds the most visual appeal and value to a home? The overwhelming winner – out of a variety of material choices including tile, glass, and beadboard – was stone.
We agree – whether you are living in a townhouse, condo or detached home, installing a stone backsplash in your kitchen is a stylish, yet timeless, way to make your space more attractive to potential property buyers.
Natural Stone or Stone Veneer?
Once you've decided to use stone for the backsplash in your kitchen, your next choice will be whether to opt for natural stone (granite or slate, for example) or to go with the cheaper, lighter and increasingly more popular alternative: stone veneers.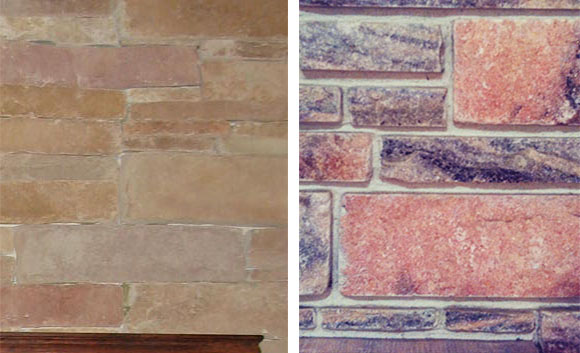 Natural Stone is stone that has been quarried from a natural source. Natural stone is heavier than stone veneer, and because of the purity of the material, it has a reputation for being more resistant to breaking and chipping. It may also add more value to your home than a veneer would – especially if you are working with a sought-after type of stone such as marble. However, because of the weight it is more expensive to transport and install.
Stone Veneers are created using a mix of cement, water repellents, and other materials for texturing. Veneers generally offer the visual appeal and toughness of real stone, without the same prohibitive weight and cost.
Stone Maintenance and Care
If you're leaning towards using natural stone in your backsplash, one of your biggest reasons is probably this hardy material's reputation for low maintenance. However, there are a few key things you need to keep in mind:
Whoever is handling your stone backsplash installation will also seal the stone, applying a "sealer" which permeates the stone and will prevent stains from sinking in. If you're using a high-quality sealer, typically you can get 3-5 years out of one coat before you have to reseal the stone. Many popular types of kitchen stone (including granite, marble, slate and limestone) absorb oil and water, so when the time comes to reseal, it's best to find an oil-repellent sealer.
Some types of stone, including marble and limestone, are acid sensitive. To be safe, use natural soap or a neutral-pH detergent when cleaning your stone backsplash.
If you wish to add a little shine to your backsplash, there are a variety of polishes to choose from. These are commonly found in powders and aerosol sprays. Depending on the type of stone you have installed, you might even want to look into using a self-polishing wax as an alternative. An expert at your local hardware store should be able to make a recommendation on which products will work for certain stone types.
For more detailed information on caring for stone interiors, check out DuPont Stone Care's great FAQ on cleaning and maintaining stone.