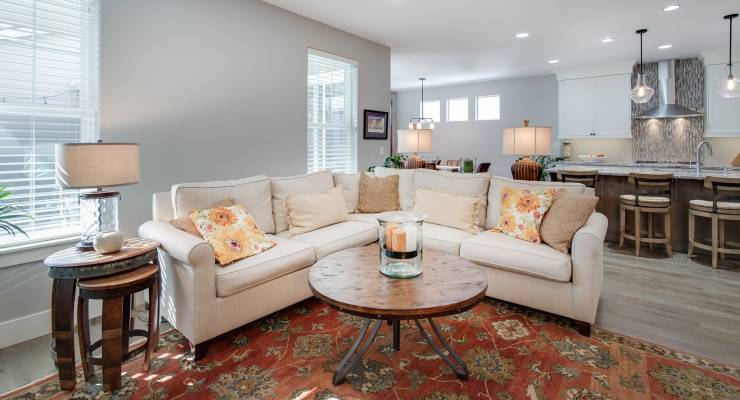 Whether you just moved in or have been there for years, it's always good to improve the look and feel of your home. But how do you do it and where do you start? Here are our top tips for decorating your home …
Paint in Lighter Colours (downstairs)
Painting walls and ceilings in soft colors has the effect of making spaces feeling more spacious and roomier. It literally lightens a room and that can do wonders for the way you feel when you enter. As an added benefit, lighter colours like white and cream are better when you are selling your home as they offer more a blank canvas to prospective buyers.
It should be noted that this tip is best applied to common areas in the home such as living rooms, dining rooms and recreation areas, while bedrooms might be better with bolder colours that add a more personal touch.
Make the Most of Windows and Mirrors
Following on from the colour scheme, this is another tip for decorating your home that adds a feeling of spaciousness. It's a difficult and costly job to change the size of your windows but you can get a similar effect by removing any objects that obstruct your windows. This will allow more light to flow in and fill your room.
Similarly, large mirrors can have an astonishing effect when added to a room. They reflect and enhance the light while also offering an illusion that seems to increase the size of the space.
Optimise Your Furniture Layout
There's an art to the arrangement of sofas and armchairs but it doesn't have to be too complicated. There is just one simple rule to follow: set your furniture in a way that invites conversation. What does that mean? Don't have different items disconnected; make it so that people sitting on different sofas can see each other and interact. This generally means having them facing each other or arranged around the sides of a coffee table. It provides a much more welcoming living room and one that people will be happy to lounge in.
Use Plants
Plants don't cost much but can transform a living space. They can fill a room with little effort and offer a calming effect with the restorative impact of the natural green colours. They can also be put to work as Certain plants can also help to improve the air quality in your home – and not just with their beautiful scents.
Add a Rug
Hardwood floors are definitely the fashion at the moment: they are strong, beautiful and very easy to clean. But they can leave a room lacking some colour and variety. This is where a good rug comes in. 'Good' is the most important word here because not all rugs are created equal. When adding a rug to your living room, for example, you should look to buy one that fits under the legs of all sofas and chairs – allowing it to define the boundaries of the seating area and present a balanced and harmonious design.
Declutter
Anyone who has watched or read the works of Marie Kondo will know the benefits of decluttering…
As the famous organizer has shown, less is often more. It could be overflowing shelves, closets without any room to spare, or simply too many items within a room; regardless of the cause, too much clutter can harm the style and feel of a room. Clear away unnecessary items and, in particular, limit the items on shelves, desks and tables and you will find that your rooms open up and become much more pleasant spaces.
Change Your Light Switches and Plug Sockets
This decorating tip is often overlooked but can make a big difference. It's a relatively small and cheap alteration, but this can have a dramatic effect on the look of your home. The standard white switches and sockets are seen in the majority of homes but switching them out for gold, metal or wood effect can add a touch of warmth and class to a room and set it apart from others.