Residents invited to take advantage of "Tree Talk" information clinics
MARKHAM – Like many other Ontario municipalities affected by the emerald ash borer, the City of Markham spent much of 2013 and 2014 focusing on the removal (or, in some cases, treatment) of ash trees damaged by the invasive and inconspicuous species of beetle.
For 2015, the City is setting its sights on rebuilding Markham's forests – with an aggressive goal to plant 6,000 new trees by the end of the fall. According to the town's official reforestation plan, new trees will be composed of a "strong and diverse" mixture of species that is less susceptible to infestation by ash borers and similar pests.
"Our trees and green spaces add colour and beauty to our rapidly growing urban landscape, and also have many important environmental benefits," City of Markham Mayor Frank Scarpitti said in a statement issued May 12.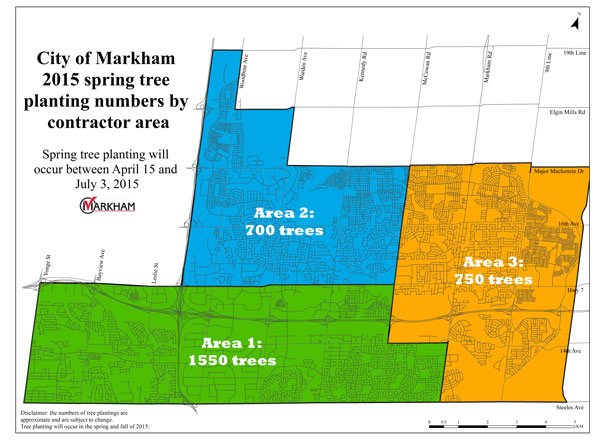 "Our urban forest also contributes to the health and well-being of everyone who lives, works and plays here, which is why we began our Trees for Tomorrow program in 2008. This program has now resulted in over 280,000 trees being planted in Markham."
While the City of Markham's efforts will have a major impact on forested public lands, the city has also noted that many affected ash trees are located on private property.
Luckily, area homeowners – who are responsible for treating or replacing their own ash trees – have a number of valuable resources at their disposal, including a series of "Markham Tree Talk" information clinics at locations all around the municipality. Tree Talk booths each have an arborist on hand to answer residents' questions about planting and caring for trees and shrubs, or about having dead/hazardous trees removes from private property.
Via the City's official website, the next Tree Talk clinic will be at the Milne Dam Conservation Area's official City of Markham Canada Day celebration on Wednesday July 1, from 12 PM to 8 PM.
Residents who visit any "Tree Talk" booth can also redeem this printable coupon for a free white spruce seedling.