MARKHAM – After the appearance of some rainfall at 2015's North Markham Fun Fair, the forecast for this year's event on May 28 – a hot day with plenty of sunshine – helped bring out another impressive turnout for the annual event's fourth straight year.
Organized once again by a partnership of neighbourhood businesses (others include Kumon, TD, and CIBC, to name a few), the event took place in its usual venue: the parking lot outside of Living Realty's North Markham Branch, just northeast of where Major Mackenzie Drive meets Woodbine Avenue.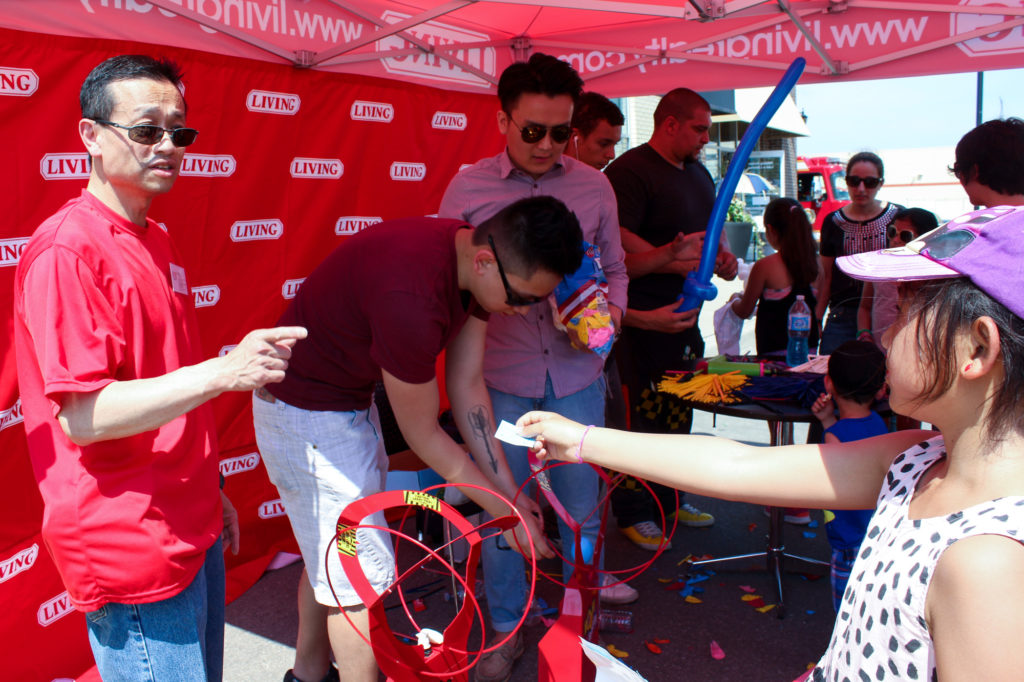 Having helped organize the fair since its first year, Living Realty expanded its usual family-friendly offerings, adding a new balloon popping contest for kids. Inside the branch office, a popcorn machine was set up for those seeking a break from the heat.
One of the branch's visitors was Markham Ward 2 Councillor Allan Ho, who stopped in to pose for photos and check out a copy of the Living in Markham newsletter.
"I've come every year over the past few years," said Ho. "This event has brought a lot of students coming out to enjoy the sunshine, and a lot of fun games. I think it's great."
Other activities included inflatable bouncing castles and mazes, basketball games, and the always-popular appearance of Carlton the Bear.
"We've partnered with Living for three years in sponsoring this event," said Samuel Chan, who works at the plaza's TD branch and was a key organizer of this year's fair.
"This year there's a great turnout, and great weather. We're seeing lots of young families, and new families to the area, getting to know each other."
The Fun Fair's inaugural edition, held in 2013, was originally conceived as a way for new arrivals in Cachet and Cathedraltown — two of Markham's newest and most quickly-growing subdivisions– to mingle, learn more about neighbourhood businesses, and develop a stronger sense of community.
This year's edition was, of course, another busy day for Living Realty's North Markham branch manager Chris Tam.
"Every year, we always invite families at the fun fair to come into the branch and meet the members of our team," Tam said. "This year, our balloon animals were still popular but it was nice to see lots of visitors come into the branch, have some popcorn and take a break from the sunshine."
You don't need to wait until the Fun Fair to visit Living Realty's North Markham branch, which is located at 735 Markland Street (units 12 and 13) and open to visitors Monday to Friday, 9 AM to 9 PM. To set up an appointment or get in touch with a member of the sales team, the branch can be reached by phone at (905) 888-8188 or online via this quick form.