In a GTA house prices report released today, the Toronto Real Estate Board announced that the average price for house sales in March was $899,452 for Toronto, $925,888 for the rest of the GTA, and $916,567 for the areas combined. This compares to averages of $699,513, $681,776 and $688,011 in March 2016, meaning there were increases of 28.6% in Toronto, 35.8% in the rest of the GTA, and 33.2% for the entire area.
The report also showed the percentage increase for specific areas and property types. Increases were high in all areas but, interestingly, Toronto showed the lowest growth rate at 24.1%, while South Simcoe County produced the biggest rise in sale prices at 35.2%.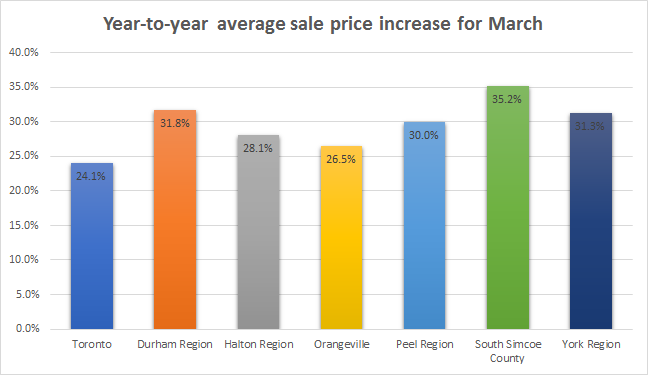 It's just the latest eye-popping increase in GTA house prices amidst a red-hot Toronto housing market but there was also a significant increase in sales activity, suggesting that those rising prices aren't deterring buyers. In March 2016, the board reported 10,3260 sales through its MLS® System but that number rose to 12,077 last month, a 17.7% increase.
Many people have pointed to a shortage of properties as one of the causes for the recent rapid rise in GTA house prices but there was good news on that front. The number of new listings recorded was higher in both Toronto and the GTA when compared to last March's figures. Toronto had 5,740 new listings in March 2017, compared to 5,503 a year earlier, and the rest of the GTA rose from 9,292 listings in March 2016 to 11,311 last month. Jason Mercer, TREB's Director of Market Analysis noted that there were concerns because "annual rates of price growth continued to accelerate in March as growth in sales outstripped growth in listings". Mercer then added that "a substantial period of months in which listings growth is greater than sales growth will be required to bring the GTA housing market back into balance."