This slideshow requires JavaScript.
Images courtesy of the City of Toronto
One of the hottest and most in-demand neighbourhoods in Toronto is going to get even more pedestrian friendly next year thanks to the planned construction of a new bridge for pedestrians and cyclists.
The King-Liberty Pedestrian Cycle Bridge will stretch across the Metrolinx Kitchener-Milton rail corridor from Douro St to the western end of Western Battery Rd. For the first time, residents in the eastern end of Liberty Village will have a quick, safe and easy route towards King St and the popular West Queen West area.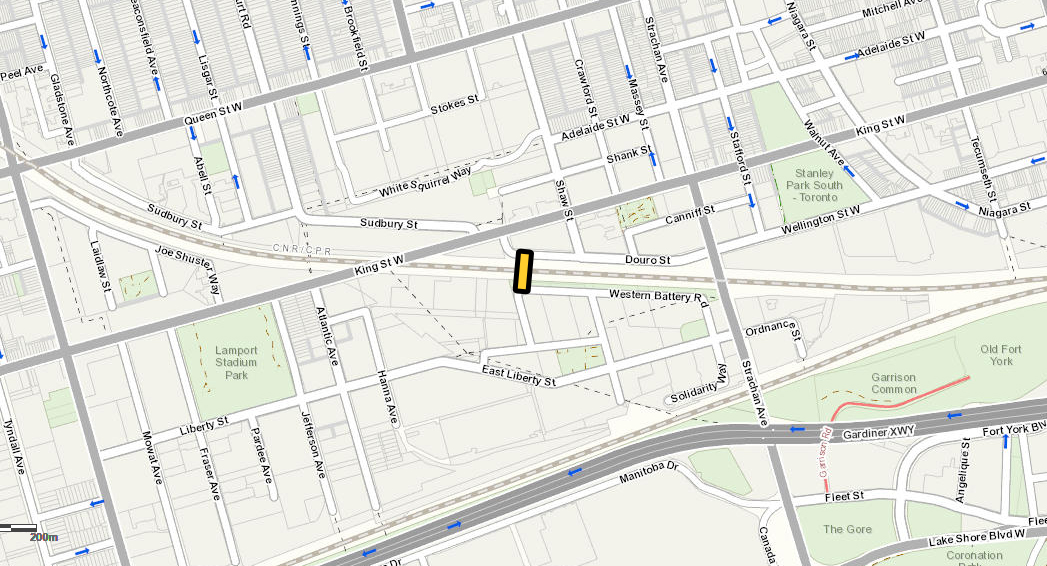 Image courtesy of the City of Toronto
The bridge's deck will be 5m wide and will be covered its entire length, providing protection from the elements for anyone crossing it. There will be stairs with a bike channel at both ends of the bridge, as well as elevators for barrier-free access. It's a positive sign that such thought has been put into making the bridge accessible for all.
For the safety of anyone crossing the bridge, passageways and approaches will be fully illuminated, there will be closed circuit cameras in operation, and emergency call buttons will also be available.
This is a much-needed addition to a popular and quickly-growing neighbourhood. Long known as a cool area popular with young professionals, Liberty Village has seen lots of development in recent years, and further exciting projects are now being released, like Playground Condos. However, the neighbourhood has been somewhat cut off from the popular West Queen West neighbourhood by the railway line that divides the two.
The arrival of the new bridge is expected to be big boon to residents and local businesses. It will give residents quick and easy access to the various eateries and retail to the north of Liberty Village, and also grant easy access to the King St streetcar services. Meanwhile, businesses will enjoy an increase in local foot traffic and that is bound to be a good thing.
Construction work is set to get underway this summer and the current timescale estimates that the bridge will be finished and ready for use in the summer of 2019.