Following on from a recent pattern, the GTA real estate market showed more signs of growth in November, with prices rising by 7.1% and the number of sales up by 14.2%.
According to a report released by the Toronto Real Estate Board (TREB) this week, the average price of a home in the Greater Toronto Area rose to $843,637 – 7.1% higher than in November last year. Similarly, the number of homes sales rose to 7,090 – a massive 14.2% increase when compared to a year earlier.
Just as significant was the fact that new listings suffered a huge year-over-year drop, falling by 17.9% to 8,650. This is the fourth straight month and 16th time in the last 21 months that new listings have decreased year-over-year. Unsurprisingly, this has impacted active listings, which dropped 27.2% year-over-year to 11,958. Notably, both new listings and active listings are well below the 10-year averages (10,006 and 14,915 respectively).
It's a stark contrast to 2018 and suggests that prices are likely to continue climbing in the GTA, with the increased demand and reduced supply creating greater competition for properties on the market.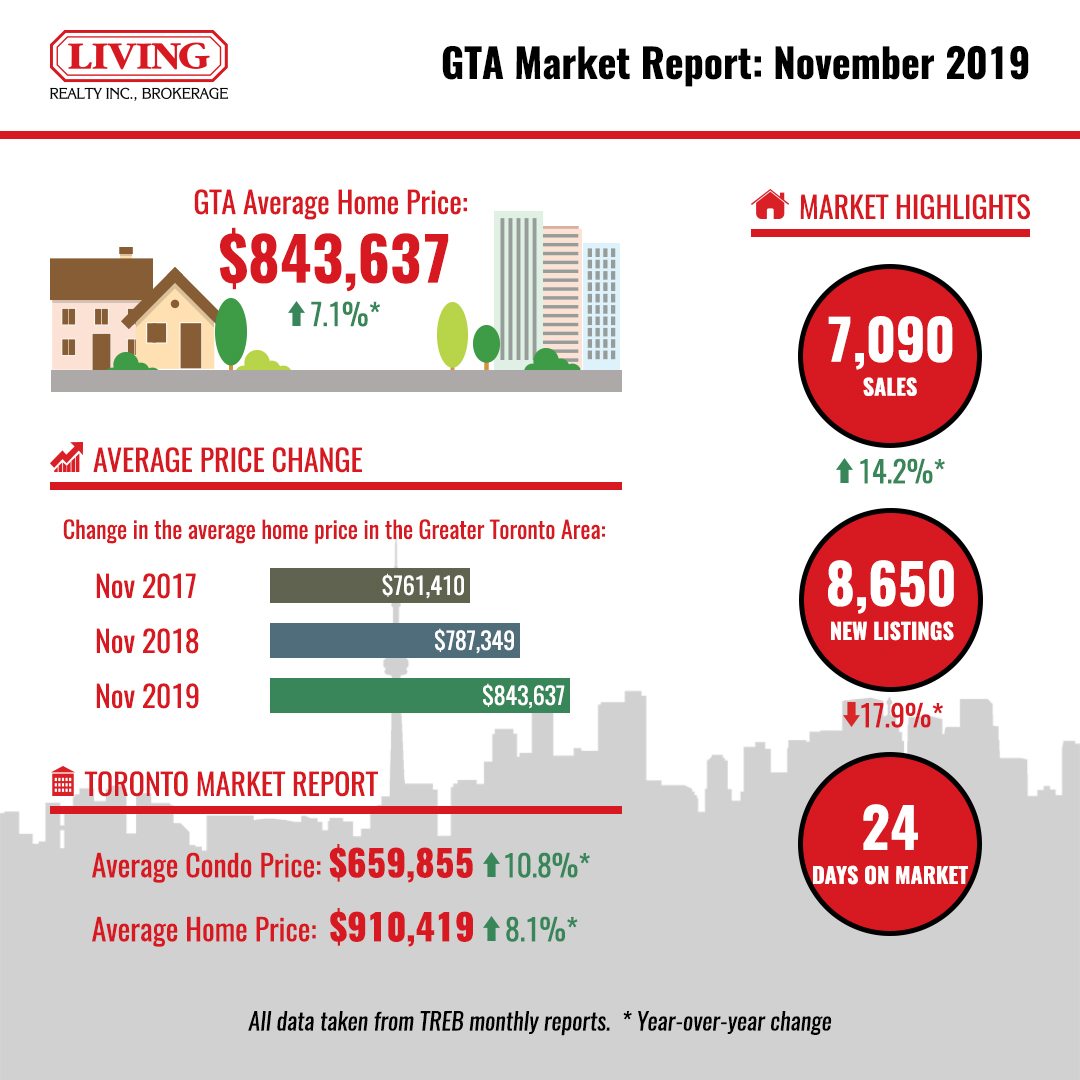 Looking more closely at the TREB numbers, all home types recorded year-over-year average price increases, but the increase was more notable for some types.
Condo apartments recorded a 10.95% rise in average price after climbing to $617,658. That number is significant because it is the highest average price ever for condo apartments in the GTA. In fact, the last two months are the only times that the average price of a condo apartment has been above $600,000. With supply down and demand still high, we can expect the average price to remain high in the near future.
There was a 3.51% rise in the average price of a detached home in the GTA, which is now $1,004,138. However, this is still somewhat below the peak detached price of $1,205,262 which was seen in April 2017. Semi-detached homes rose 5.79% to $837,573, just short of the peak price of $858,202 from March 2017.
The City of Toronto and York Region were the drivers of the increase in average price, recording increases of 8.1% and 17.7%. Meanwhile, Halton Region, York Region and Peel Region were responsible for much of the increase in sales activity. Those three regions recorded 25.8%, 17.7% and 11.5% year-over-year increase in the number of homes sold, accounting for much of the increase seen across the GTA as a whole.
These increases in areas outside the City of Toronto are yet another sign of a strengthening market. When the market cooled in the second half of 2017, places like York Region saw big drops in sales activity, which then had an impact on prices. With demand now increasing in these areas, prices are also on the up and some are approaching the peaks achieved in 2017.
In the City of Toronto, the average price of $910,419 was the sixth highest ever recorded and was just $33,528 below the peak price. Similarly, the average price of a home in Peel Region is now $769,434 – 6.9% higher than a year ago and just short of the April 2017 peak ($790,298).
Halton Region saw the average price climb to $892,034, York Region rose to $974,771 and Durham Region recorded an average price of $611,872. These were all up compared to a year earlier but still somewhat short of the peak from early 2017 (Halton: $1,015,544, York: $1,198,229, Durham: $702,768). How long will it be before they start to reach record levels again? Only time will tell but signs suggest it will be sooner rather than later.