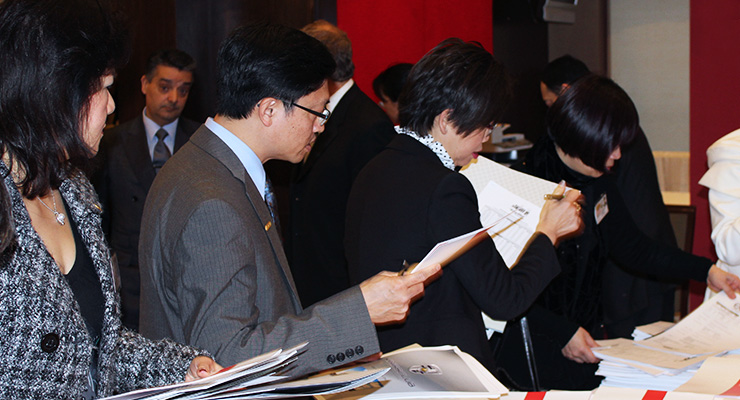 GREATER TORONTO – While it has certainly garnered its share of media attention in Greater Vancouver, the practice now known as "shadow flipping" has yet to become a serious problem here in the GTA, according to the Real Estate Council of Ontario (RECO).
In a nutshell, a real estate sales representative or broker may engage in shadow flipping by arranging the sale of a property, and then selling the contract to purchase the home via assignment before it closes.
As a recent Globe and Mail investigation uncovered, there have been instances in British Columbia of a property deal being assigned two, three, or even more times before it winds up in the hands of the final "assignee." However, the contrast between the offer price originally accepted by the sellers, and the price paid by the final buyer, has the potential to be dramatic — hundreds of thousands of dollars, in many cases.
That difference in the final purchase price has led some British Columbia sellers to believe they may not have gotten the best possible price from the negotiations of their original listing agent(s) – who, in some cases, also represented subsequent assignment buyers for the exact same properties.
In the GTA's comparably hot real estate market, it has also led many would-be sellers to ask two related questions: are they susceptible to this practice, and what protections are in place to prevent it?
Are assignments controversial?
Here in Ontario, the answer is no – assignments are completely legal, and have yet to become controversial.  In fact, assignments (or the sale of a contract) are used in many industries, not just real estate.
In more standard practises, and in particular in Ontario, the assignment of a contract requires the consent of all the original parties to the contract and this would be spelled out in the language and body of the contract.
While the Globe's feature reports that assignment deals may be viewed as "controversial" in that province (hence the sinister-sounding moniker of 'Shadow-Flipping'), RECO notes that such is not the case in ours, where the majority of assigned property deals involve new-development homes (as opposed to existing re-sale ones).
In the case of Ontario's new-development home assignments, the practise is fully disclosed, and all parties are aware of the rights of the Buyer to assign the contract.  In fact, assignment rights are often openly negotiated as part of the initial purchase and sale!
In Ontario, as in British Columbia, it is legal to assign an Agreement of Purchase and Sale (the official contract outlining the terms of a property sale). In many situations, this provides a helpful tool for buyers who must back out of a transaction due to a change in personal circumstances.
While sales may theoretically be assigned for any type of property, it can be either forbidden – or explicitly allowed – by the addition of clauses in the original purchase agreement.
For sellers who are wary of their property being resold via assignment, it is important (and, indeed, encouraged by RECO) to look carefully at any and all clauses – including assignment or non-assignment clauses before signing. It is the duty of your real estate representative to help you interpret and understand those clauses, so don't be afraid to ask.
Because contract assignments have as much to do with contractual law, as they do with real estate, it is also strongly advisable to consult a lawyer for more information regarding them.
What measures are in place to prevent Ontario sales representatives from misusing an assignment clause?
Since "shadow flipping" involves a seller's sales representative failing to disclose the true value of a property, or concealing their knowledge of additional buyers beyond the first, this practice runs afoul of the Code of Ethics found within the Real Estate Business and Brokers Act (2002) – an important piece of legislation that is strictly enforced by RECO. In addition to disclosures of real market value, the Code also legally obligates agents to disclose any personal interest in the property — in writing, and before offers are made.
In Ontario, real estate sales representatives are also obligated by law to observe five fiduciary duties when dealing with clients. Several of those duties are in place to help prevent ethically questionable practices (such as shadow flipping) from taking place:
Maintaining the "utmost loyalty" to your client – including, in the case of sellers, ensuring that they get the best price for their property.
Avoiding conflicts of interest, especially where the agent's own interests are concerned (e.g. acquiring property from your own client.)
Avoiding the acquisition of "secret profit" at the client's expense. This would include any profits knowingly earned via "shadow flipping" — making the practice a direct violation of fiduciary duties in this province.
How can home buyers avoid assignment-related complications?
Since the initial burst of media attention focusing on shadow flipping in Vancouver, RECO has offered up a number of tips for Ontario sellers to protect themselves from such practices:
Make sure you take the time to personally review each clause within your real estate contract. If you don't understand some of the language, you can check with your real estate sales representative (or, if peace of mind is important to you, a real estate lawyer).
Do your "homework" before signing a Seller's (or Buyer's) Representation Agreement. When considering any agent, finding the answers to key questions early — for example, can they provide testimonials from previous clients? — can save you a lot of trouble later on.
RECO also recommends obtaining several "comparative market analyses" to get an idea of what homes in your neighbourhood are worth, before making the move to list and sell.
What recourse is available, in Ontario, for those affected by "shadow flipping"?
As Assignments are not illegal, there is no 'recourse' unless the aggrieved party feels that their agent failed in their duty to fully represent them and get them the best possible price, at the time of the initial sale. This includes scenarios wherein a seller's agent has possibly made efforts to conceal the true value of a property.
In Ontario, RECO is responsible for investigating any possible breaches of REBBA 2002, including the Code of Ethics and fiduciary duties to clients. When you file a complaint with RECO, it is also a part of the Council's job to look it over, and determine whether any breach did in fact occur.
Due in part to the recent news out of British Columbia, RECO is currently on high alert for instances of shadow-flipping, and are actively encouraging affected buyers and sellers to come forward.  However, as mentioned above, it is widely understood that this practise is not common place in Ontario.
"If there is a concern of any type from the seller's perspective, we are more than interested in hearing about that," said RECO's Deputy Registrar Kelvin Kucey in an interview with BNN. "We will pursue that as an investigator."
PLEASE NOTE: The above feature is meant to be used only as an introductory overview, and must not be regarded as legal advice or a substitute thereof. Because laws and regulations can be applied differently to different situations, it is important to speak with your lawyer if you suspect you have been affected by "shadow-flipping," or if you want details on how to protect yourself, specifically, from complications related to assignment sales.