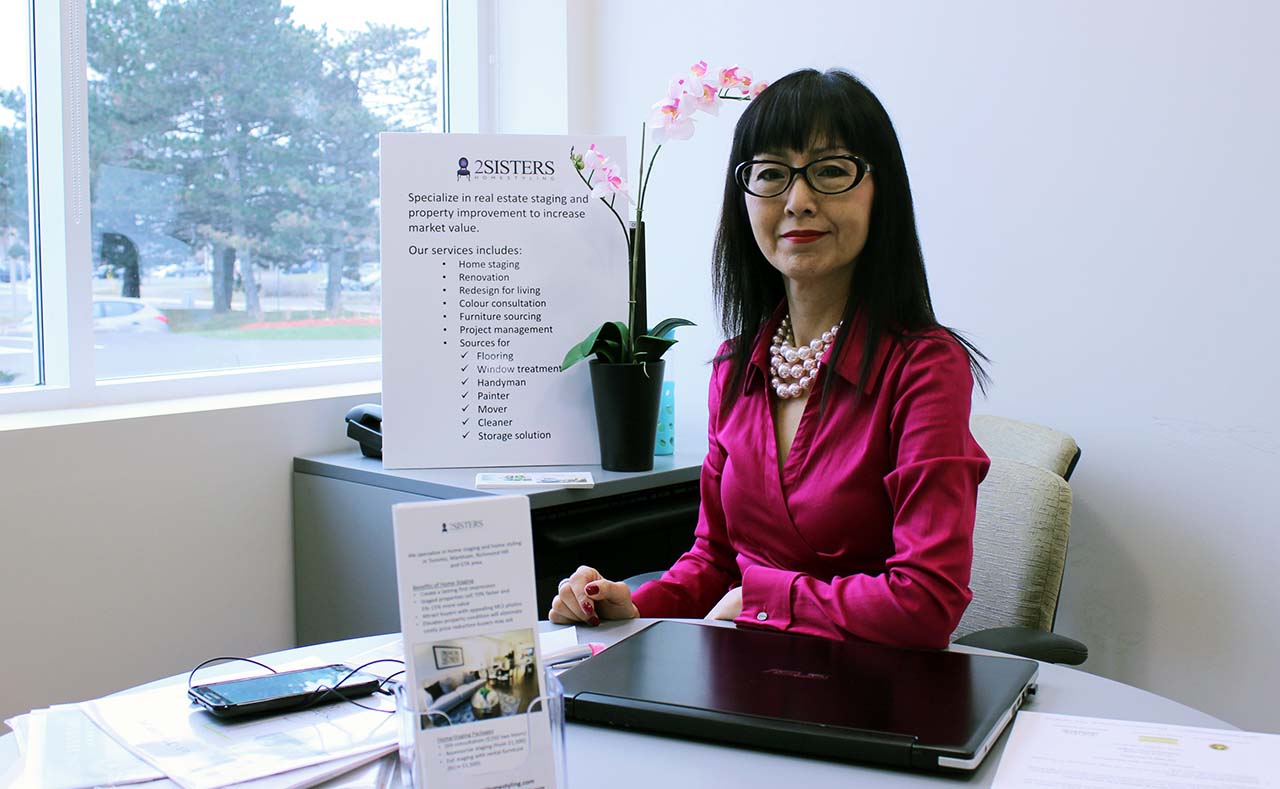 GREATER TORONTO – For many realtors, interior design and space organization are not talents that come naturally.
That's why, when it comes to real estate listings, many opt to bring in a staging professional – essentially, an expert who specializes in quickly and efficiently making listed properties look their best.
The decision to bring in a staging specialist can be difficult – especially if you have never previously worked with one. To help demystify the process, we spoke with Kit Lee, a GTA-based Certified Staging Professional and co-founder of 2 Sisters Homestyling, which she operates with her sister Cissy Leung.
From an agent's perspective, what are the main benefits of working with a real estate staging expert?
"In today's real estate market buyers have very high expectations, as well as many choices," explains Kit. "Most properties on the market have been staged, so a property that is not staged will be at a disadvantage when it comes to attracting potential buyers."
The first advantage of bringing on a home staging expert, according to Kit, is that they can work with your existing marketing team to help sell properties quicker while minimizing price reduction.
"Home staging creates a lasting first impression, and highlights the best features of the home while minimizing any flaws," says Kit. "A home staging expert will address necessary updates and improvements in advance – elevating property conditions, and reducing the chances of a costly price reduction requested by the buyer."
Kit stresses that, particularly in the digital era of real estate advertising, any listing is only as good as its online photos – and a staging specialist can help to make that job easier for your photographer.
"The majority of buyers are searching for homes online before deciding which house to visit," says Kit.
"Posting photos of beautifully staged rooms tends to attract more buyers to the property, than leaving the house in 'as is' condition – which, in my experience, only helps to sell the competition."
What are important questions for a realtor to ask when meeting with a stager for the first time?
When choosing to hire a staging specialist, Kit explains that it is important to get a feel for not only potential stagers' professional background and experience, but also the terms of the arrangement they would prefer to make with you as a realtor.
In particular, there are eight specific questions she recommends asking:
Where did the expert undergo his or her training?
Does the staging company have liability insurance?
Can he or she share photos of their previous staging projects?
Can the expert provide examples of overcoming difficult situations during previous staging work?
Which staging packages does the expert offer? (e.g. occupied, vacant, DIY consultation)
How long is the agreement period?
What are the renewal options?
How much time will be required to arrange the staging job?
Which types of properties can benefit the most from professional staging?
Kit points out that any type of property being listed – whether it's a condo, townhouse, or detached home – can benefit from the attention of a staging specialist. However, she also notes that there is a distinction to be made between vacant and occupied properties – which are marketed, and accordingly staged, utilizing slightly different methods.
Vacant Properties
"Vacant properties need furniture to define space and function – for example, it can make a small condo look bigger, or it can create warmth and a welcoming feeling within a large home," Kit explains. "They also need accessories, which are selected to tell a story that may connect emotionally with potential buyers."
Occupied Properties
"When it comes to occupied properties, a professional stager works directly with the sellers to address any issues – for example, dated furniture, clutter, or odour – in order to make the home more presentable," says Kit.
"If existing furniture is presentable for staging, a specialist may rearrange it to allow for maximum space and an optimized flow of traffic through the home."
What is the typical timeframe required for a staging project?
While the duration of the actual staging process varies depending upon the size of the property, Kit advises that it can "usually" be performed on a same-day basis, within three to six hours.
Kit says that while she does her best to accommodate short-notice staging requests, staging professionals generally require advance notice in order to perform their tasks most effectively. For her staging company, vacant properties require advance notice of five to seven business days, while occupied homes require advance notice of three to five business days.
"An agreement will be provided to stipulate not only the staging period, but also the terms and conditions of the staging package, and the option to renew," advises Kit. "The property owner's rights and the stager's rights are to be agreed upon once it is signed."
Is staging expensive? What can an agent expect to pay?
According to Lee, for a vacant property, the average staging fee is between 0.5 per cent and 1 per cent of the property value.
"It is a very small investment, and will pay off fast," Lee explains. "Our statistics show that, on average, a staged property sold between 2 to 4 weeks with minimal or no price reduction. Some properties actually sold over asking price as a result of staging."
Are high-end properties better suited for staging services?
While some agents might not think to hire a staging professional for a less expensive property, Lee insists that staging can be beneficial to any listing – regardless of its price range.
"Our most recent DIY Consultation was a property valued at $155,000," Lee recalls. "The agent hired us to provide the consultation to the seller, as she was not comfortable with telling the seller that they had too many personal items in the home – which would need to be packed and moved."
In a DIY consultation, Lee explains, the stager will typically visit the listed property and go over each room with the seller, making recommendations on, colour, furniture arrangement, and personal item removal. 2 Sisters charges $250 for each DIY Consultation – a small price to pay for the valuable information provided directly to the seller(s).
"We also offer Accessary Staging Package from $1,000," adds Lee. "With this package, after the consultation visit, in order to bring the overall look and feel of the home current and fresh, we will return with case goods, artworks, and accessories to complete the staging."