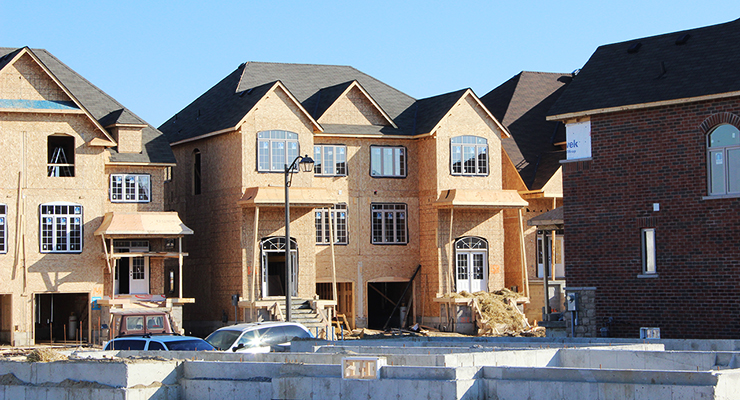 As Toronto and its surrounding communities continue to grow and intensify, more and more property buyers are now looking towards investing in a brand-new home.
That focus shift isn't just limited to first-time buyers – savvy investors and older buyers looking to downsize are also getting in on the action. As a result, new homes have been a major contributor to recent sales activity around the Golden Horseshoe.
While the resale market will always be a key aspect of many real estate sales representatives' business activity, you could also give your career (and bank account) a major boost by getting familiar with the GTA's pre-construction and new-home development scene. It's easier than you think, and we're happy to share a few of our best tips for getting started selling new homes and pre-construction homes.
1. Preconstruction 2.0 – Connect with Developers Online
Leveraging developer connections is one of the best advantages of working with a reputable brokerage. Often, your manager or Broker of Record will be able to give you the heads-up on a new project's information session, sales launch or agent preview – giving you an edge when it comes to selling new homes.
If you've begun to build up a solid social media presence, you can also use those channels to stay one step ahead – and even get into the inside track on new projects from web-savvy developers. Many local builders use Facebook, Twitter, and other social media to post up-to-the-minute information that can assist you when selling new homes, such as:
Details of upcoming events or newly announced projects;
Construction updates and photos from the site;
The latest renderings, floorplans, and other helpful visuals;
New block, model, and phase releases.
Generally, those social media accounts have an in-house professional or team monitoring them – so you can feel free to interact with them if you have questions. "Sharing" or "retweeting" project info from the developer is always positive, too – it helps you build a relationship with local builders and solidify your connection to a project you're looking to specialize in.
2. Hold on to those launch invitations!
If you have taken the time to register with builders and developers for their projects, you've probably already begun to receive invitations to launches, lunches, and other events pertaining to their current or upcoming releases that are moving through the pre-construction phase. These events might be just for brokers and sales representatives, or they might be sales events at which clients and buyers are also welcome.
In the GTA, it can sometimes feel like the invitations are really piling up – especially during the spring and fall seasons when construction is in full swing. You should try to get to them in person, especially if they're in one of your focus neighbourhoods. Here's why:
Many project information events are held on-site at the new official sales office. Attending these will give you a chance to get a feel for the area, scope out some of the local amenities, and likely an opportunity to preview interior finishes.
You'll get a chance to connect in-person with representatives from the development group, allowing them to put a face to your online presence.
Events like these are usually your chance to be first in line for price lists, broker packages, worksheets, and other valuable documentation.
While you probably won't be able to make it to every new project event, it's important to make time for them when you're interested in a project, or in getting to know the developers behind it.
3. Hold on to your broker packages and keep them organized.
If you work with a larger brokerage, floorplans, price lists, and other project documentation may be available in scanned or electronic format from the head office. Even so, you'll want to hang on to the physical materials for projects that are still selling – after all, buying a home is a big decision, and interested clients will feel more comfortable if they can interact with the original materials from the builder.
To keep everything organized, it's a good idea to dedicate a special filing cabinet or storage space in your office to new development materials and booklets. We recommend going through it once in a while so that you can recycle materials for projects no longer on sale – filing space is always at a premium!
If you'd like to learn more about selling new homes, the best way to get started – and to begin forming those valuable relationships with builders – is to speak with an experienced broker or sales manager. As always, we invite you to contact a branch manager Living Realty Inc., Brokerage for general advice. Living Realty is one of Greater Toronto's top producers of pre-construction sales, and our dedicated team of agents and brokers is almost always invited to VIP broker events.