MARKHAM – It was a snowy and chilly night in the GTA, but even a blizzard wasn't enough to dampen spirits at the Living Group of Companies' 2013 Christmas Party and Sales Awards Gala.
This year marked the 33rd anniversary of the annual event, held at Markham's Shangri La Banquet Hall on Saturday, December 14. Every year, guests are treated to a delicious multi-course meal, on-stage entertainment, and a shot at winning special prizes in the Lucky Draw or Raffle events.
This year's event kicked off with a keynote speech from Living Group of Companies chairman Stephen Wong – an annual gala tradition. Stephen congratulated Living Realty's brokers and sales representatives on their excellent performance in 2013, and shared some Toronto Real Estate Board (TREB) statistics that illustrated even stronger market activity this year than in 2012.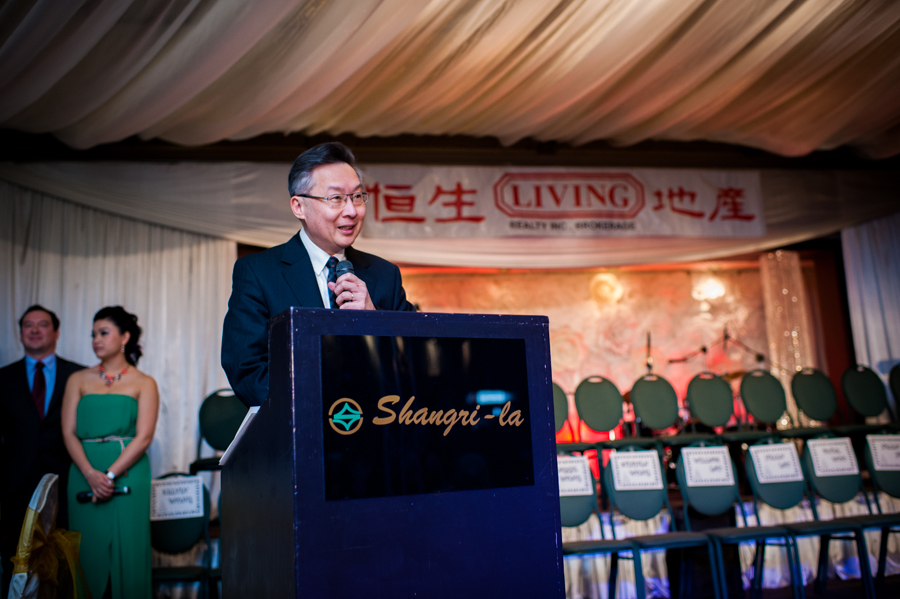 Stephen was also proud to announce Elliott Taube's new role as President of the International Home Marketing Group, and introduce Elliott as the second speaker of the evening.
In a touching address, Elliott recognizing the significant contributions of previous IHMG president Michael Wilson, and promising to continue in the strong tradition that Mr. Wilson established in his years at the helm of the company.
Elliott was also proud to announce that IHMG had expanded their client roster in 2013, including local developers such as Urban Capital and Great Gulf, to name but a few.
"You are going to have some fantastic sites to offer your clients next year," Elliott promised, eliciting an enthusiastic response from the agents and brokers in attendance.
2013 Sales Award Winners
After the speeches, it was time to recognize Living Realty sales representatives' outstanding contributions in 2013 by handing out achievement awards for top performers in each branch.
Each year, branch managers distribute four awards: the Top Producer Award, the President's Award, the Award of Distinction, the Success Club Award, and the "Path to Excellence" award recognizing the hard work of new Living Realty agents.
After being announced by their branch manager, the award winners were invited to come up to the stage and receive their award personally from Living Group of Companies' President William Lau.
CLICK HERE to take a look at GTA Real Estate News' interactive list of Living Realty's 2013 award winners.
Another Year of Holiday Fun and Entertainment
With the banquet hall packed full despite the gloomy weather outside, the stage was set for another evening of entertainment, music and fun. Fantastic MC performances by Yanny Lee and Alan Wu were complemented by a ballroom dance show, "Musical Chairs," and a truly convincing tribute to ABBA that had the audience up on their feet.
It was all followed by a Living Group "Fashion Show" featuring sales representatives and staff – not to mention a very special cameo appearance from Stephen and William.
The evening's highly-anticipated Lucky Draw and Raffle events were a huge hit as usual, with more than $2,000 in raffle tickets sold during the course of the gala. The huge assortment of prizes included iPads, cash prizes, and special gifts – all made possible through the generosity of sponsors such as LiVante Developments, Fair Print, Chinese Real Estate Weekly, and more.
All in all, the Christmas Party was a tremendous success yet again, providing a chance for our team to celebrate the success of 2013 while sharing in our optimism for the year ahead. On behalf of the Living Group of Companies, the team at GTA Real Estate News would like to thank all of the sales representatives, brokers, employees, and guests who helped make it such a special evening! We hope you enjoy a wonderful holiday season and a healthy, happy new year.