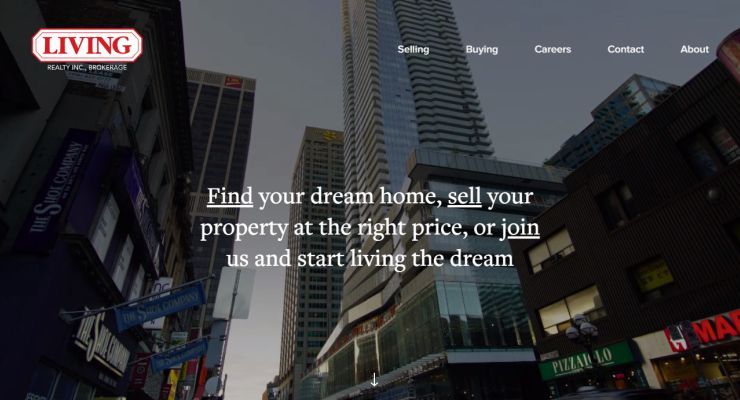 Living Realty today announced the launch of a newly redesigned corporate website that will give added value to real estate buyers and sellers in the GTA.
The new version of the website can be found at www.livingrealty.com and was officially launched following a few months of testing and refining, which was aimed at ensuring the site provides the kind of service that Living Realty customers and clients have come to expect.
Complete with customized videos, graphics and animations, the new website is modern and responsive. Whether looking at it on a desktop computer, laptop, tablet, or phone, the site has a smooth and intuitive interface that will guide visitors to their desired destination.
There are services offered on the website for buyers, sellers, investors and industry professionals. Sellers can read through a variety of informative articles, connect with agents, or get a market valuation on their home using the integrated home valuation form. Buyers can browse through thousands of properties, including MLS listings in the Greater Toronto Area and exclusive listings from Living Realty.
For anyone who works in real estate or is looking to get started, the careers section of the new Living Realty website explains the benefits of working for Living Realty and explains how to join the Living Realty team.
Perhaps the most exciting feature of the slick new corporate website is the new chat service that has been integrated by the developers. The chat will be manned by Living Realty agents, which means visitors to the site can talk live with the agents, ask questions about real estate, and get the expert advice that they need. The chat service will only be answered by actual people, so visitors can be sure that they will get a genuine human response.
Speaking about the launch of the new website, Broker of Record Kelvin Wong said: "We hope our new site will offer a value-added service to our clients and agents.  It is modern, well-designed, helpful, and, above all, offers visitors a chance to engage with our representatives directly and get answers to their questions right away from a trained and registered professional realtor."
To visit the site and see the new design and features for yourself, go to www.livingrealty.com.