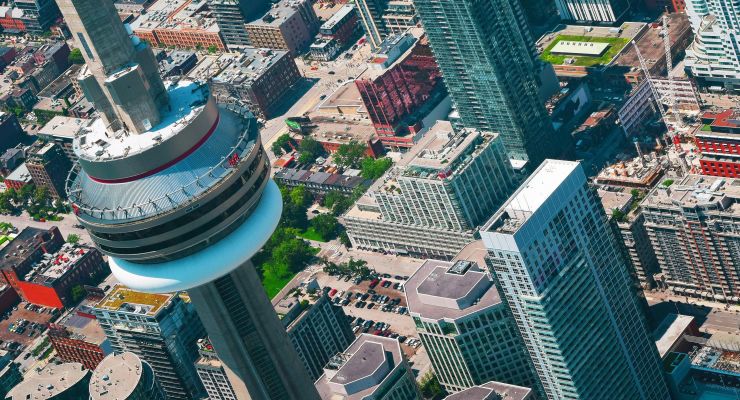 There were positive signs for the Toronto real estate market in June as new data showed year-on-year sales numbers had increased for the first time in over a year.
According to a report released Thursday by the Toronto Real Estate Board (TREB), there were 8,082 home sales in the GTA in June – a 2.4% increase from June 2017. While this may not seem like a major increase, it is a notable change for the real estate market as it is the first time since March 2017 that there has been a year-over-year increase in home sales.
Looking closer at the data, it seems that much of the increase in sales activity was focused in York Region. The area saw a drastic reduction in home sales over last year but demand seems to be increasing and there were 1,260 sales in June – a 15.1% increase from a year earlier. That marks a big change for home sales in York Region but it should be noted that the sales numbers are still somewhat below the numbers seen in 2015 and 2016:
In another positive sign for the market, the average price of a home in the GTA rose to $807,871 – a 2% increase from a year earlier and the sixth month in a row that the average price has made a month-over-month increase. Although the increase from the previous month was only small (0.3%) it was notable because it was the first time since 2009 that the average price rose from May to June.
Although average prices were up, the composite benchmark price for a home in the GTA was down 4.76% year-over-year to $772,100. That benchmark price decrease was observed for most property types, with detached homes down 9.30% to $ 931,600, semi-detached down 7.20% to $ 721,800, and townhomes down 3.65% to $ 568,200. Once again, condos bucked the trend and saw a notable increase, with the benchmark price up 7.52% to $502,400.
Perhaps unsurprisingly to anyone who has experienced the recent super-hot condo market, the sharpest increases in condo benchmark prices were in the City of Toronto. 17 of the 35 TREB-defined areas in the city saw the benchmark price of condos rise by more than 10% year-over-year and the city as a whole recorded a 9.09% increase. Much of those gains have come in 2018; the benchmark price was $492,800 in January this year and has risen by 7.41% since then – an incredible rate in such a short space of time.
Meanwhile, the benchmark price of a detached home in Toronto stood at $1,119,400 in June, which is down 7.13% when compared to June 2017 but, notably, is up 3.57% compared to the recent low of $1,080,800 that was recorded in January this year.
The positive changes suggest that the real estate market may be stabilizing after a number of governmental interventions caused issues in 2017 and early 2018. New TREB president Garry Bhaura pointed to these interventions while also highlighting the positive signs and the reasons why buyers are returning to the market:
"Home ownership has proven to be a positive long-term investment.  After some adjustment to the Fair Housing Plan, the new Office of The Superintendent of Financial Institutions (OSFI) stress test requirement and generally higher borrowing costs, home buyers are starting to move back into the market, with sales trending up from last year's lows.  Market conditions appear to be tightening, with sales accounting for a greater share of listings, as new listings have dropped compared to last year."
TREB's Director of Market Analysis and Service, Jason Mercer, added to those comments and suggested that now might be a good time to enter the market, with sales and prices potentially set to increase once more: "The expectation is to see improvement in sales over the next year.  Over the same period, however, it is likely that issues surrounding the supply of listings will persist.  This suggests that competition between buyers could increase, exerting increased upward pressure on home prices."