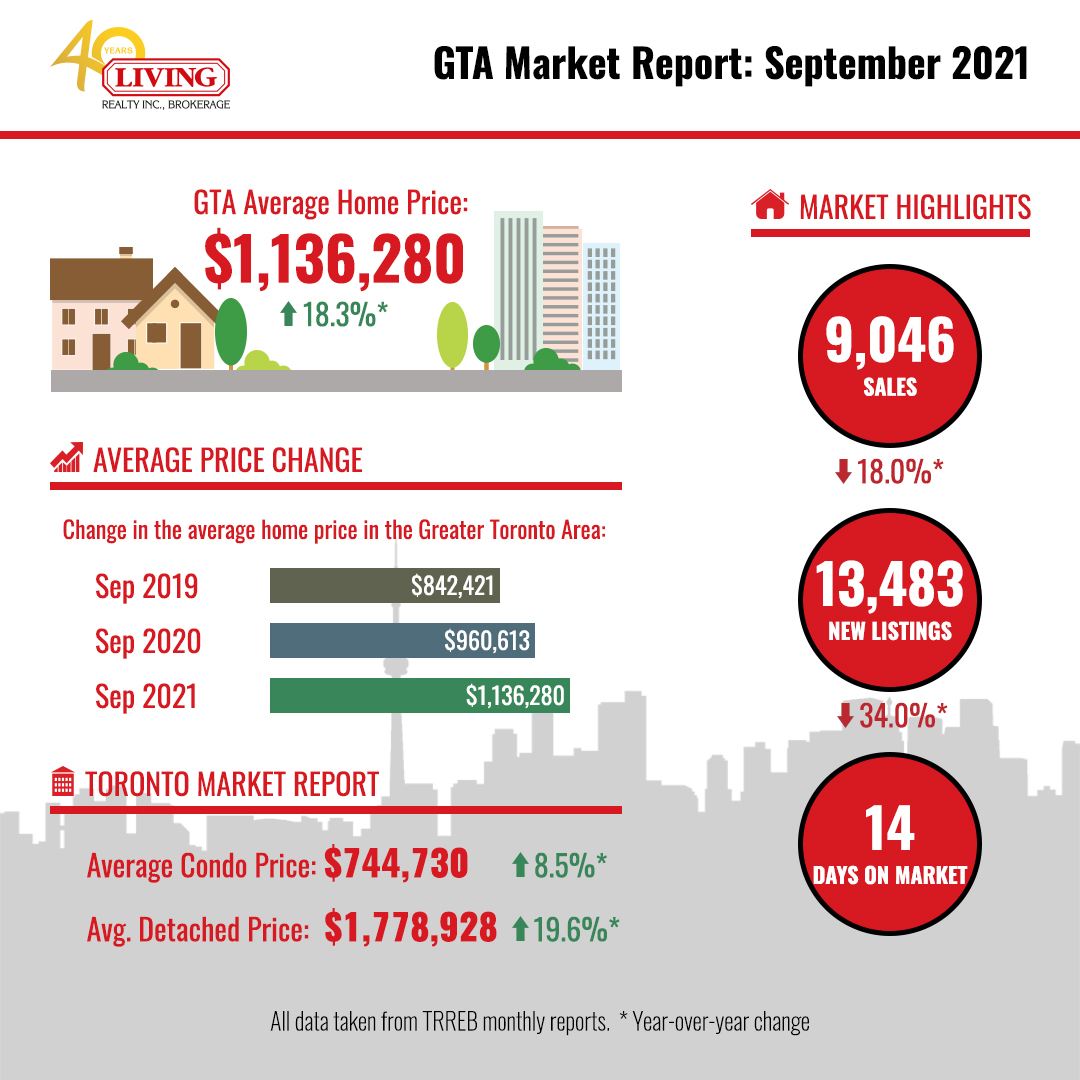 There were more new records for home prices last month as the Greater Toronto Area real estate market showed no signs of slowing down.
According to a report released by the Toronto Regional Real Estate Board (TRREB), the average price of a home in the GTA rose 18.3% year-over-year, reaching a new record of $1,136,280. That marks the fifth time this year that a new record has been set for home prices and it is the eighth time in a row that the average has been over $1m , since that marker was first reached in February this year.
The big price gains were almost uniform across the entire GTA, with several regions also seeing new records for the average price. Halton Region ($1,247,856), Peel Region ($1,087,321), York Region ($1,359,010) and Durham Region ($968,136) all saw their highest average price ever, while other areas came close to record numbers.
One of the main drivers of the big increases in home prices has been the supply-demand dynamic and we saw this at play in September. On the surface, it may look like the number of sales was low, with an 18% year-over-year decline to 9,046. however, this is when it is compared to an unusual September last year which saw higher numbers due to the Covid-delayed spring market. In fact, the 9,046 sales last month was the third highest total ever recorded in September, behind only 2020 (11,083) and 2016 (9,902). In fact, when the anomaly of 2020 is removed, the 10-year average for September is 7,681 sales – far below the total seen last month.
In addition to the continued demand for sales, we once again saw a drop in new listings. Ignoring the unusual 2020 numbers once again, the 10-year average for new listings in September is 15,325, but last month we saw just 13,483. This followed on from previous months with low numbers of new listings and the result is that the GTA real estate market now has just one months' inventory – which equals the record set for lowest inventory in February 2017, March 2017 and April 2017.
Will the pattern continue in coming months? With interest rates still low, demand high, and supply tightening further, it seems that we are likely to see more price growth in the near future.