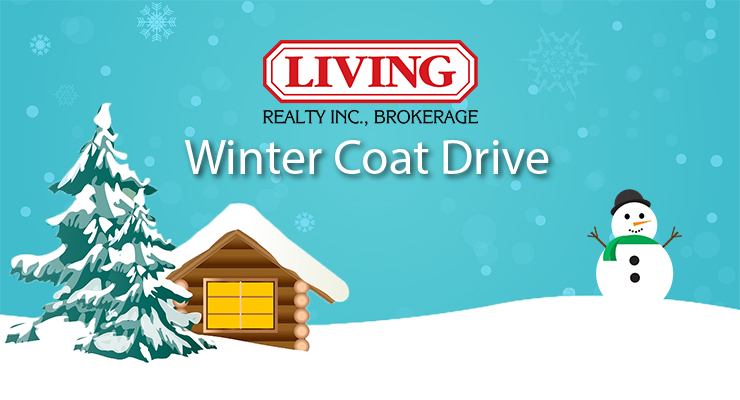 Living Realty is proud to announce the launch of our latest charity effort: a Winter Coat Drive in support of the GLOW Clothing Bank managed by New Circles.
Following on from the successful completion of our second Thanksgiving Food Drive and the great response to last year's festive toy drive, we have decided to once again work hard to support those in need in our local community.
While in 2017 we ran a highly successful toy drive for Toy Mountain, for this year's festive charity campaign we took aim at addressing the need for winter coats, a basic necessity in our cold climate. Collection boxes have been set up at all of our branch offices and coats can be donated at any time while the branches are open. Our friendly staff will be on hand to assist and answer any questions you may have.
At the end of the Winter Coat drive, all donations will be collected together and given to GLOW, which stands for Gently Loved Outfits to Wear.  GLOW is the largest clothing bank in Toronto and does tremendous work by helping to "ensure that local families struggling with poverty can meet their basic need for adequate clothing."
Speaking at the launch of the Winter Coat Drive, Living Realty's Broker of Record, Kelvin Wong, explained the thoughts behind the drive: "As all Canadians know, it's beautiful but cold in the winter.  A proper winter coat can be expensive and sometimes families struggle to keep everyone warm.  Lots of people have a closet full of old clothes tucked away somewhere, unused and forgotten.  We hope that people will raid those closets and find something they can donate.  It saves it from going to the landfill and could really help someone this year, or maybe for years to come."
"Our recent charity efforts have focused on giving back to the community, with food and toy drives that provided much-needed relief for those in need. We hope that this Winter Coat Drive can provide another much-needed item to families in need and help them enjoy the best of the winter. I encourage everyone to donate any gently-used winter coats that they no longer need, to help us raise as much as we can for this worthy cause."
If you would like to donate a clean, gently-used or new winter coat to the Living Realty Winter Coat Drive, you can place your donation in one of the collection boxes set up at the following locations:
Markham – 8 Steelcase Rd West (Woodbine/Steeles) – (905) 474-0500
North Markham – 735 Markland St, #12 & #13 (Woodbine/Major Mackenzie) – (905) 888-8188
Downtown Toronto – 7 Hayden Street (Yonge/Bloor) – (416) 975-9889
Mississauga – 1177 Central Parkway W, Suite 32 (Mavis / Burnhamthorpe) – (905) 896-0002
North York – 685 Sheppard Ave East, Suite 501 (Bayview/Sheppard) – 416) 223-8833
Donations can be dropped off at any time from now until the second week in December during branch open hours. Our branch offices are generally open until 9pm on weekdays; for exact hours and weekend hours, contact your local branch on the phone number provided above.