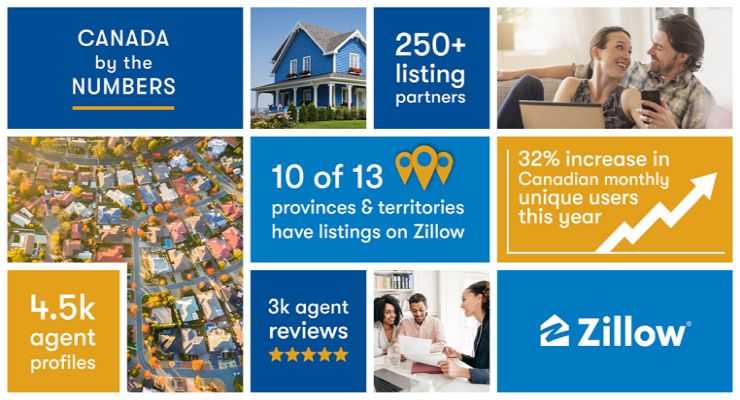 Toronto, ON – Living Realty is pleased to announce that it has signed an agreement with Zillow®, the leading real estate and rental marketplace in the U.S., to display listings on Zillow.com and Zillow's mobile app.
In a press release published this morning, Zillow announced its new agreements with Living Realty and other brokerages, while outlining the impressive growth it has made in the Canadian market. The company has long been a major presence in the U.S. real estate market and recently expanded into Canada, hoping to make a similar impact. According to the press release, it is already making good progress, recording a 32 percent year-to-date growth of monthly Canadian unique users.
Errol Samuelson, Chief Industry Development Officer of Zillow Group, outlined some of the benefits that brokerages will gain from their agreements: "Zillow has long been a go-to real estate resource in the U.S. for consumers and our partners in industry… Canadian listings on Zillow have the benefit of our audience of 195 million unique monthly users which includes a quickly growing Canadian audience."
One of the most well-known names in U.S. real estate, Zillow is a leading supplier of trusted real estate data, and is a go-to service for today's knowledgeable consumers. In its own words, "Zillow is … dedicated to helping buyers and sellers find information and inspiration around the place they call home."
Zillow Canada offers listings from across Canada, neighbourhood maps, listing prices, homes for sale, listing photos, comprehensive property details and more. In the near future, its service will expand to include sales history, virtual home tours, mortgage calculators, and its famous home price estimator, Zestimate. It can be accessed via the website, zillow.com, or through a dedicated mobile app.
Living Realty's Broker of Record, Kelvin Wong, was thrilled with the agreement and the potential benefits it brings, stating that: "Living Realty believes in the benefit of Zillow's online reach and their technology platform. We feel with the experience they have had in the U.S., they will be able to deliver to buyers and sellers in Canada the type of technology clients in the U.S. have enjoyed for years. We look forward to helping our clients achieve their real estate success with the help of Zillow in Canada."