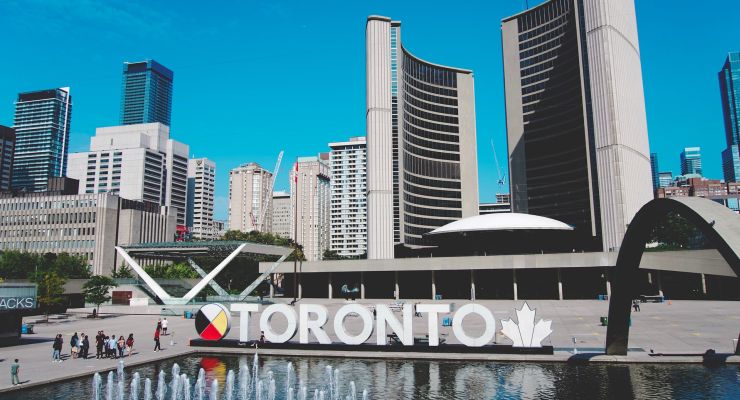 Toronto Mayor John Tory yesterday announced the next phase in the city's plan to increase the supply of affordable housing units on city-owned lands.
At a press conference at City Hall, Tory revealed details of phase two of Toronto's Housing Now initiative, with the city aiming to build between 1,455 and 1,710 residential units. Housing Now is a component to Toronto's HousingTO 2020-2030 Action Plan. As part of the plan, the city has set a target of approving 40,000 affordable rental homes over the next decade.
In the words of the city's news releases: "HousingTO is a comprehensive blueprint to assist more than 341,000 households over the next ten years by addressing the need across the housing spectrum – from homelessness to affordable rental and ownership housing."
According to details of phase two, 1,060 to 1,240 of the new residential units will be purpose-built rentals. Out of those rental units, between 530 and 620 will be classified as affordable rental units. According to the city, affordable rental units are defined as units priced at a level affordable to households earning between $21,000 and $56000 a year. In additional to the rentals, phase two will also see the development of between 470 and 495 ownership units.
The announcement also included proposed locations for the housing units, which will all be close to employment areas and transit. The six locations are:
158 Borough Drive – close to Ellesmere and McCowan and a short walk from Scarborough Town Centre
2444 Eglinton Ave. E – located in Scarbourough just steps from Kennedy GO and TTC subway stations
1627 and 1675 Danforth Ave. – just steps away from Coxwell subway station
1631 Queen St. E – at Queen and Coxwell and close to a streetcar stop
405 Sherbourne St. – in Cabbagetown, just a short distance from downtown
150 Queens Wharf Rd. – at Fort York Blvd. and Bathurst, close to downtown
In his statement to the press, Mayor Tory emphasized the heightened need for affordable housing in the city as a result of the COVID-19 pandemic: "The need to increase the supply of permanent affordable rental housing is more urgent than ever and will make a profound contribution towards Toronto's socio and economic recovery from the COVID-19 pandemic. Implementation of the Housing Now Initiative and our overarching HousingTO 2020-2030 Action Plan will require a strong partnership among all orders of government – and I continue to work hard to ensure our plan is fully funded."
Deputy Mayor Ana Bailão added: "The pandemic has highlighted that access to a safe, secure and affordable home is essential to a person's health and well-being, and the overall well-being of our society. Housing Now is a critical component of the HousingTO 2020-2030 Action Plan and is an innovative way to leverage City resources and work with our partners in the private, non-profit and co-op sectors to build new rental and affordable housing to achieve the highest possible public benefits."
Phase one of Housing Now is already well underway and will deliver 10,750 residential units to Toronto, including 7,800 purpose-built residential units of which 3,900 will be affordable for low and moderate-income households. The announcement of over 1000 new homes in addition to this will be welcome news for anyone in search of affordable housing in the city.