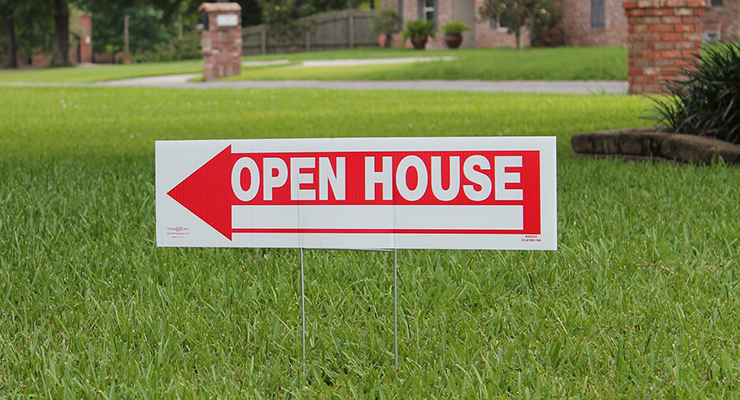 When you're looking to sell a home, an open house can be excellent way to showcase the property and find buyers. But how can you make the most of the opportunity and allow visitors to experience the full potential of the home? Here are five tips for a successful open house.
1. Make Some Space… then use it
Buyers want to be able to imagine their own furniture in the home and how it will be if they live there. They can't do that if the home is cluttered, so clear some space and let their imaginations get going.
There is a limit to this, however. If the home is too empty then it can feel soulless and cold. Meanwhile, buyers might need some help and inspiration and that's where good quality staging comes in. With the right touch, staging can transform a home and show prospective buyers the full potential of a home. Since staging also works wonders for the photos you use on your listing, it is worth investing in a quality staging professional to help you.
2. Use your senses
While we often focus on the way a home looks, the other senses play a part too. A great deal has been written about the psychology of tastes and smells but we don't have to get too complicated. If a home smells good, it will leave a good impression. If a potential buyer tastes something good it will have the same effect.
So, don't ignore these aspects. Prepare some aromatic food for your guests to enjoy, such as freshly baked cookies. The good tastes will enhance their mood and leave them feeling good about the house. At the same time, make sure you extinguish any smells that could be interpreted negatively; flowers, air fresheners, scented candles and even fruit left in bowls can help.
3. Let the light in
A dark home is a miserable home in the eyes of a buyer – so open up the curtains and let as much light in as possible. It will have a positive effect on anyone who enters; lightening the mood and showing off the best features of the home. There's an added side benefit as well because letting more light into a room can make it look bigger and this will add to the appeal of the property when prospective buyers view it.
4. Clear the path… and everything else
This applies as much outside as inside: make sure the home is spotless. From the curb to the back garden, and everything in between, the home should be immaculate. A clear, inviting driveway and well-kept garden will create the perfect first impression and encourage more people to step inside. Once inside, you don't want potential clients to be distracted by untidy surroundings. That applies to yourself as well; present yourself as best as you can and you will add to the positive impact in the home.
5. Get the word out
An open house will only be successful if prospective buyers visit and that will only happen if they know there is an open house. So, get the word out! There many options and marketing plans, so use the tools that you are comfortable with, are available to you, and you feel will get you the best results. You could use flyers in newspapers or posted to local homeowners, online advertisements, internet listings, print advertisements, word of mouth, or whatever other means you have available. Whatever you choose, on the day of the open house, you should also place signs in the neighbourhood around the home. These will guide people to the open house, making it easy for people to find the home while also encouraging spontaneous, walk-up visits.
6. Ask Around
Perhaps the best tip of all is to speak to your colleagues and managers to find out what has worked for them in the past. At a well-established and respected real estate brokerage like Living Realty, there are lots of experienced sales representatives, brokers and managers who are more than happy to share their experience and advice with their colleagues. By talking with those around you, you can find out some of the techniques that have had the greatest success in your area and perhaps learn some real estate secrets that will help to make your open house a success.