While many York Region residents likely associate the proper pronoun "Mount Joy" with the eponymous GO station or community centre – both located along Highway 48 (A.K.A. Markham Rd.) between 16th Avenue and Bur Oak Boulevard – what some may not know is that the Mount Joy name and neighbourhood both date back to the late 1800s.
Originally settled around several staple businesses including a pump factory, planning mill, and even an early cancer treatment centre, Mount Joy was designated a "police village" in 1907 before becoming a part of the Village of Markham on January 27, 1915.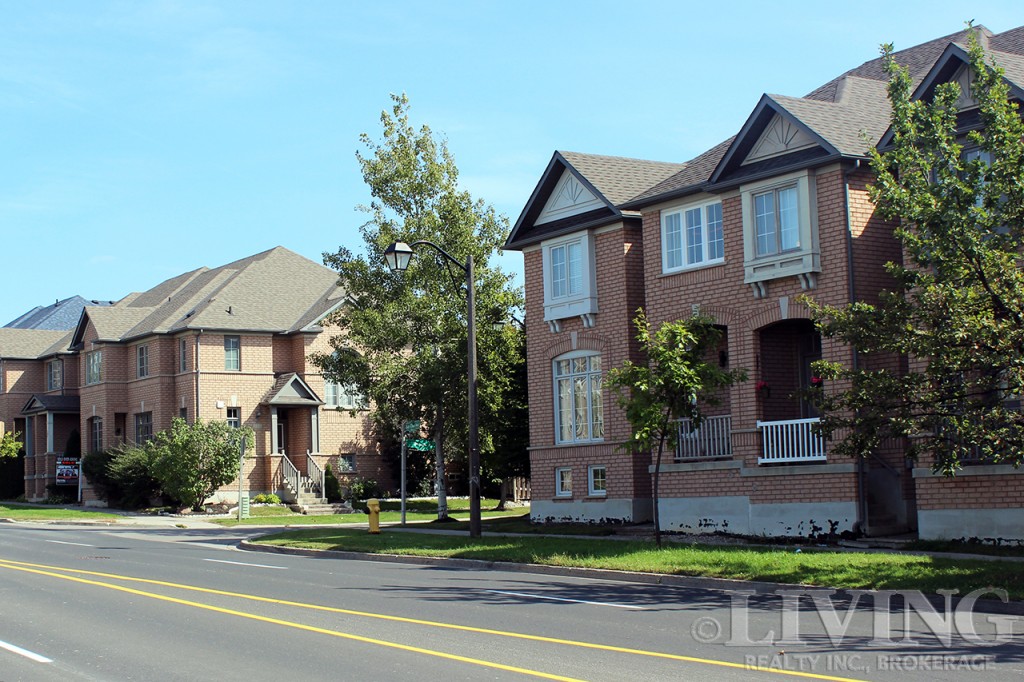 Over the course of the century that has followed – and especially during the last decade – the Mount Joy area has blossomed from being predominantly agricultural, to becoming one of Markham's busiest real estate epicentres for both low- and high-rise development.
Indeed, access to the nearby Mount Joy GO Station (at the southeast corner of Bur Oak Avenue and Highway 48) and to plenty of nearby schools, combined with a newly abundant inventory of condos and townhomes, have helped make the area one of 2015's most sought-after real estate hubs for York Region home buyers.
New Homes in Mount Joy
North of 16th Avenue, the east side of Highway 48 is home to multiple commercial properties – featuring a mix of convenient retail staples like No Frills and The Beer Store, and more specialized destinations like Markham's Long and McQuade music shop.
On the west side of the highway, however, a number of exciting residential projects have already started construction – and others still are accepting preconstruction registrations, offering home buyers an exceptional opportunity to buy in one of Markham's most quickly-growing communities.
The Mark Condos
9560 Markham Road
Now fully sold out, The Mark (developed by Empire and Pace) is already on its way to becoming one of Markham's most recognizable architectural designs. Designed with discerning buyers in mind, The Mark's suites offer luxurious touches like 9' ceilings, cultured marble window sills, and glass-tile backsplashes.
ArtHouse Condos
9582 Markham Road
Under construction and rising up just north of The Mark, ArtHouse (by Flato Developments) was designed with artistic buyers in mind and features a set of special amenities to match, including a digital arts studio and lobby gallery.
While construction on the ArtHouse tower has already begun, a limited number of suites are still available for sale (as of September 22).
The Upper Village: UV2
9500 Markham Road
Building upon the success of the fully sold-out first phase of Greenpark's popular Upper Village community, the second phase, entitled "UV2," has also sold out and is currently under construction just a short distance south of ArtHouse.
One of UV2's biggest draws is its sleek and modern amenity spaces, including a 24-hour concierge, private parkette, and spacious rooftop terrace.
UNION Condos and Towns
9500 Markham Road
Starting in just the mid-$200,000s and developed by Aspen Ridge Homes, UNION's collection of 101 towns and mid-rise condos – which launched sales earlier this year – presents buyers with arguably the best selection of new homes in the area.
One of UNION's biggest perks – especially for commuters with jobs downtown – is its excellent location at the southwest corner of Bur Oak Avenue and Markham Road, right across the road from the GO station.
For those seeking a low-rise home in a more established part of the neighbourhood, there is an abundance of them in the neighbourhoods nearby. For example, located just a short distance to the east, Greensborough – a master-planned community by reputable local builder Madison Homes – offers one of Markham's best bets for home buyers seeking a family-friendly low-rise property.
Neighbourhood Amenities in Mount Joy
One of the reasons for Mount Joy's newfound status as a high-density community is its exceptional range of nearby parks, schools, recreational areas, and retail options.
Bur Oak Secondary School
Completed in 2007 and located conveniently at Bur Oak Avenue and Dogwood Street, Bur Oak Secondary School is one of a limited selection in York Region that offers a Core French program – focusing on culture and history as well as language. The school has a student population of roughly 1,500, and features a diverse athletic program that includes active cricket and badminton programs.
During the 2013-14 school year, 96 per cent of Bur Oak's academic-enrolled Grade 9 math students met or exceeded provincial standards on the Grade 9 Assessment of Mathematics – compared to just 85 per cent of students province-wide.
St. Brother Andre Catholic High School
Located just around the corner on 16th Avenue, St. Brother Andre has been serving the area's Catholic families since 1984. The school – once attended by NHL star Steven Stamkos – offers an Advanced Placement academic program, as well as numerous councils and a robust athletics program.
In writing the 2013-2014 Ontario Secondary School Literacy Test, 90 per cent of Brother Andre's first-time-eligible Grade 10 students achieved a successful result, compared with 82 per cent of students province-wide.
Recreation Options in Mount Joy
Located conveniently northwest of Brother Andre, the Mount Joy Community Centre is one of the neighbourhood's busiest spots, hosting soccer, lacrosse, and more on both indoor and outdoor fields. The facility also boasts an arena with an 85' by 200' ice surface, complete with seating for up to 300 people.
At the northwest corner of Markham Road and 16th Avenue, the recently-renovated Markham Museum – a town fixture since 1971 – is another neighbourhood favourite, with its main offices and archives located in a building that was once the Mount Joy School. In addition to hosting multiple events and exhibitions throughout the year, the Museum also features a collection of heritage buildings for you and your family to explore.
Buying a Home in the Mount Joy Neighbourhood
Whether you are looking to purchase a low-rise home, townhouse, or condo, the best way to start your research is by speaking with a real estate professional who brings plenty of experience buying and selling homes in the area.
We recommend starting by clicking here to get in touch with a member of the Living Realty sales team, who can answer your questions about the area and help you begin your search.