Extending northward from the ultra-trendy intersection of Yonge and Bloor, the chic neighbourhood of Yorkville – known by many GTA residents as Toronto's go-to destination for upscale retail therapy – has also become associated with some of the finest condo inventory in the city.
When one takes in the area's glistening high-rises and sophisticated bistros, it can be hard to believe that the area actually began as an industrial hub during the 19th century, when it was home to a major brickyard and two breweries. In fact, Yorkville was self-governed until 1883, when it became the first village to be annexed by the City of Toronto.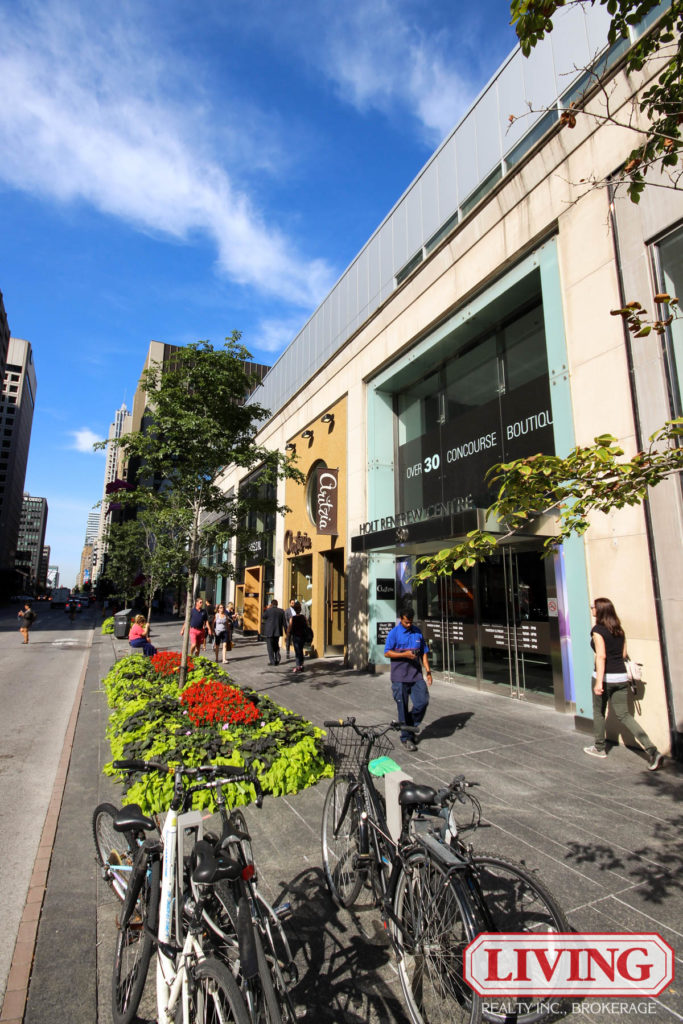 Arguably the most famous chapter in Yorkville's history, however, was the 1960s. Much like a northern sister to New York's Greenwich Village, the neighbourhood became an avant-garde hotspot for the city's emerging folk music scene – hosting acclaimed musicians like Joni Mitchell, Leonard Cohen, and Neil Young at thriving, Bohemian-style coffee houses like the now-defunct Penny Farthing.
While many of the Yorkville institutions of that era are still in business, such as Yorkville Village (formerly known as Hazelton Lanes) and The Pilot Tavern, the neighbourhood is arguably better known today for real estate properties which set Toronto's bar for luxury and style.
Buying a Home in Yorkville: A Glance at New Projects
For big-budget buyers with an eye for historic charm, many of Yorkville's older low-rise homes – some dating back to the late 1800s – can still be found standing (and, occasionally, for sale) on quieter streets like Hazelton Avenue, Belmont Street, and Berryman Street.
For the majority of home hunters, however, the more realistic ticket into area's real estate market is its growing selection of newer high-rise condos – some of which are currently in pre-construction or construction phases.
Located at the corner of Davenport and Bedford – just one street west of Avenue Road – AYC's location was chosen to offer residents the best of both worlds: Yorkville, and the historic Annex neighbourhood to its immediate west.
Presented by Metropia and Diamondcorp with marketing and sales by our very own International Home Marketing Group, AYC is currently selling its newest phase: a limited release of just 48 luxurious townhomes, organized into the Pears Terrace Collection and the Courtyard North/South Terrace Collections. To view floorplans and schedule your sales centre visit, be sure to get in touch with a member of the Living Realty sales team today.
Conveniently located just steps from the intersection of Yonge and Bloor – and right across the road from the Hudson's Bay Centre – Eight Cumberland's high-end design features reflect the style of its two reputed developers: Great Gulf and Phantom Developments.
Following a successful launch last summer, Eight Cumberland is still accepting registrations – read our guide to the project for more details and to view all available floorplans.
Located just a couple blocks to the west at the Cumberland and Bellair, Minto Yorkville Park combines the reputation of one of Ontario's most well-known developers with a range of luxurious suites inspired by Hollywood's golden era – complete with high-end finishes like Caesarstone countertops, imported bathroom ceramics, and more.
While Yorkville Park's most recent release has fully sold out, a final release is still in the works. Contact a Living Realty agent today to ensure that you'll be among the first with the details!
Developed by renowned GTA builder, Plazacorp and set for completion as early as 2018, 1 Yorkville boasts one of the neighborhood's most enviable locations, right at the corner of Yonge Street and Yorkville Avenue. The community includes a number of rarer amenities geared toward fitness aficionados, including a dedicated CrossFit studio, juice bar, and sprawling spa – complete with indoor plunge pools and an outdoor swimming pool.
While construction on 1 Yorkville has been underway since 2016, some suites may still be available for purchase – contact your Living Realty agent for more details on remaining inventory.
Shopping and Dining in Yorkville
One of the reasons for Yorkville's popularity among high-end buyers is its famed "Mink Mile" – a stretch of Bloor Street West, running between Davenport Road and Yonge Street, that features sophisticated flagship stores from retailers like Holt Renfrew, Harry Rosen, Williams Sonoma, Pottery Barn (just to name a few).
Those seeking even more retail therapy can find it at Yorkville Village, a 40-year-old shopping center that unveiled $125M in renovations when it rebranded, early last year, from its previous name of Hazelton Lanes.
Located just northeast of the intersection of Yorkville Avenue and Avenue Road, Yorkville Village provides a shopping alternative for those residing in the northern part of the neighbourhood – and an equally impressive directory that includes retailers like Whole Foods Market, Teatro Verde, and TNT Man/Woman.
After an afternoon of shopping, foodies can indulge their cravings at one of the area's acclaimed restaurants, such as the cozy Jacques Bistro du Parc, the stylish One Restaurant, or the intimate Blu Ristorante.
Education in Yorkville
Although Yorkville is home to many charming green spaces – among them the Manulife Garden, Harold Town Park, and the Village of Yorkville Park – the boundaries of the neighbourhood actually contain just one school: Jesse Ketchum Junior and Senior Public School.
With a history that goes back to 1831 (and a historic building that dates back to 1914), Jesse Ketchum serves 400 students from a wide variety of cultural backgrounds. Students will enjoy access to visiting artist and engineer-in-residence programs, as well as a comprehensive music department and a wide variety of athletics pursuits on offer.
Buying a Home in Yorkville
When considering buying a home in any neighbourhood, the most important first step should be finding an agent who knows the area well, and can confidently help you navigate its new and existing inventory of homes.
As of January 2017, Living Realty is proud to provide specialized, local service from its brand-new Yonge & Bloor branch, located at 7 Hayden Street – just steps south of the intersection of Yonge and Bloor. To get in touch with the team, just call (416) 975-9889 or use our quick and easy online contact form.