Live, Work, Shop & More in Toronto's Winter Wonderland
TORONTO – When the winter months bring shorter days and chillier winds to Toronto – a time when many of the city's residents are retreating to find refuge indoors – Toronto's Nathan Phillips Square can be found just beginning to bustle to life.
In early October 2013, enigmatic Chinese artist turned the square into a glistening spectacle with the installation of 1,000 Bicycles, the centrepiece of 2013 Scotiabank Nuit Blanche – a massive visual arts festival largely clustered around the Square and its vibrant downtown neighbourhood.
Then on November 30, the annual Cavalcade of Lights saw the grand lighting of the City of Toronto`s official Christmas tree, featuring performances by the likes of Divine Brown and, of course, plenty of skating on the Square`s popular outdoor rink.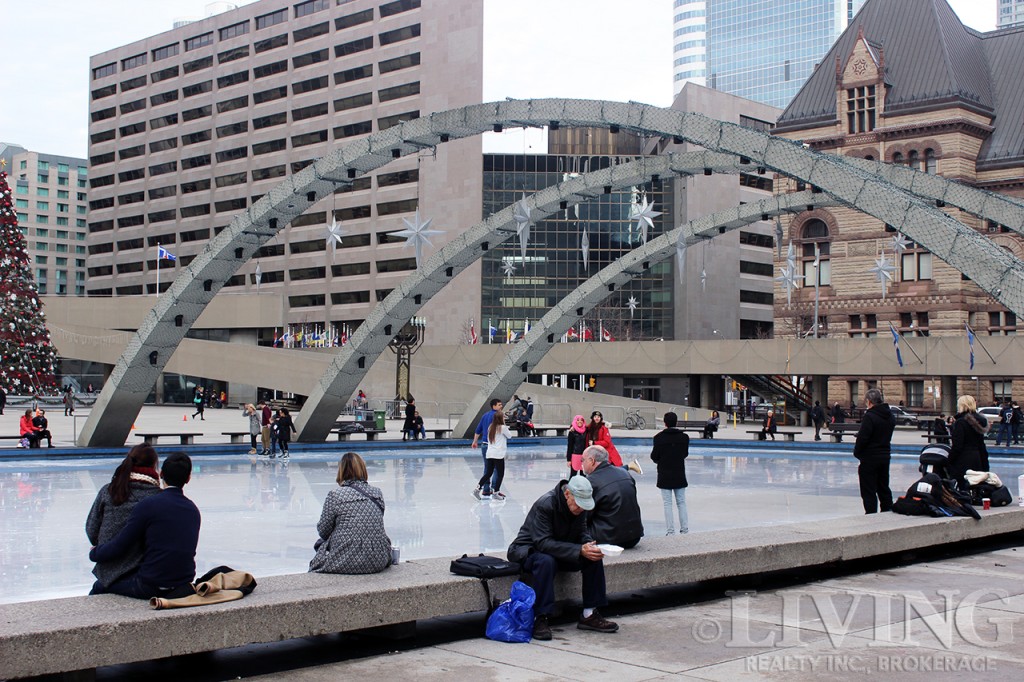 It`s a well-known fact among GTA residents that Nathan Phillips Square, and adjacent Eaton Centre, are the site of some of Toronto`s best events – especially during the winter months. With landmark commercial buildings like Toronto City Hall, Bell Trinity Square, and the Thomson Building within quick walking distance, this historic neighbourhood also enjoys a quiet reputation as an excellent part of the city in which to live and work.
St. John's Ward and the History of Nathan Phillips Square
Dating back to the early 1800s (when it was known as Macaulaytown), this unique neighbourhood's history is as colourful as the lights on its famed Christmas tree.
According to BlogTO's Chris Bateman, in 1850 the area began to be referred to as St. John's Ward. A haven for new Canadians, over the next hundred years the neighbourhood would be home to Irish, Italian and eventually Chinese immigrants.
Of course, that all changed in 1961, when the City of Toronto began building its new City Hall at the current Nathan Phillips Square site (the northwest corner of the Bay and Queen intersection). This exciting and iconic development attracted a number of other first-class developments nearby.
"With City Hall came Nathan Phillips Square, the Eaton Centre, Sheraton Hotel, and numerous other buildings that solved The Ward's problems once and for all," writes Bateman, "by finally eradicating it as the city had wanted decades earlier."
Culture and Recreation near Nathan Phillips Square: Skating, Shopping, Dining and More
When it comes to leisure, this neighbourhood has two standouts. The first is obviously Nathan Phillips Square itself, which in the summer comes to life as a gathering place for an exotic array of cultural events and special exhibitions – it even features a full-sized stage for speakers, presentations and bands.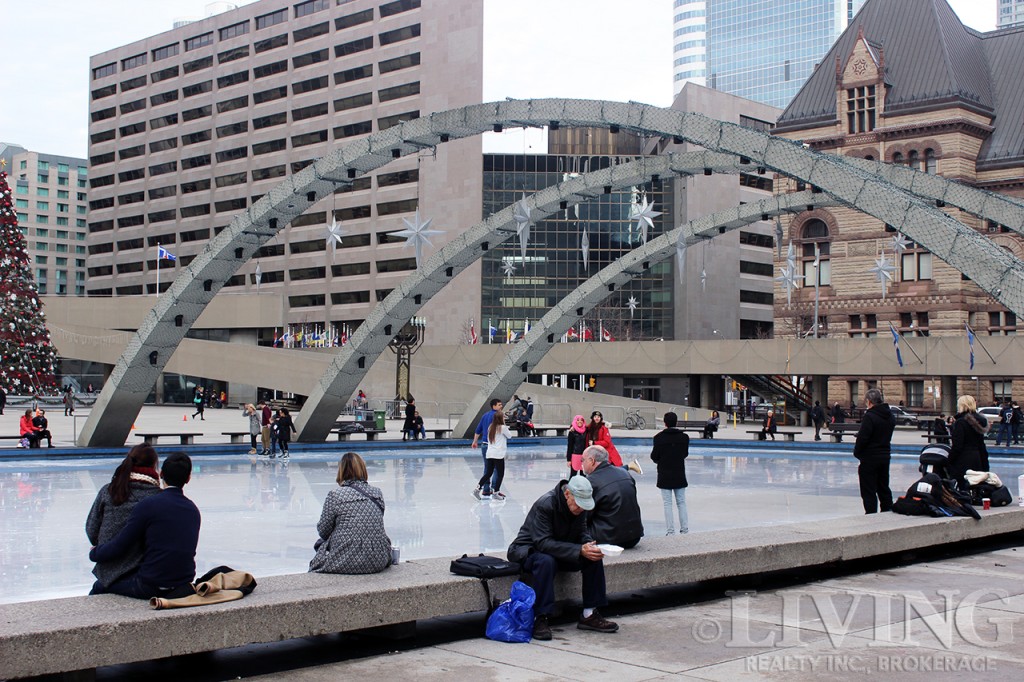 During the wintertime, the square's reflecting pool freezes over to transform into one of Toronto's most popular skating rinks, with change rooms and snack options available close by. No skates? No problem – the rink also offers a skate rental service open from November through to mid-March.
The area's other most popular public attraction is the Eaton Centre. Located along the west side of Yonge Street between Queen and Dundas, this iconic Toronto mall offers more than 230 retail options for the discerning downtown shopper – including trendsetting retailers like Lululemon Athletica, Massimo Dutti and Michael Kors.
During the holiday season, the Eaton Centre is also famous for its gigantic Christmas installations. The 2013 holidays' reindeer and stylized neon Christmas tree not only brought light and colour to the indoor space, but illuminated the faces of the many families who passed through.
This neighbourhood is also a definite hotspot for dining. Along Dundas Street stretching west of Bay, you'll find a huge assortment of Asian flavours such as Sansotei Ramen and Lai Wah Heen. If you're looking for more locally-inspired fare, just southeast of the square you'll find Bannock – Oliver and Bonacini's noted Toronto tribute to Canadian cuisine. Within Eaton Centre itself you will find a solid selection of fine restaurants, including Trattoria Mercatto and JOEY.
Working in Nathan Phillips Square
This neighbourhood is definitely a popular choice among City of Toronto staff members, with Toronto's City Hall situated at its core – just north of the Square's popular skating rink. This elegant workplace's iconic architecture was actually the result of an international design competition held in 1958, which was won by Finnish architect Viljo Revell.
Revell's sleek, modern design stood in stark contrast to many of the Victorian-style buildings that surrounded it, but eventually became a defining feature of the Toronto skyline. The hall even made its mark on Hollywood, notably providing the backdrop for the climactic finale of Resident Evil: Apocalypse.
The City Hall building is also one of the few public spaces in the downtown core that offers free wifi for tenants and visitors, a definite bonus.
Nearby commercial buildings are bustling centres for private-sector business activity, including the Thompson Building just south of the rink and the multi-building University Centre a quick walk to the west.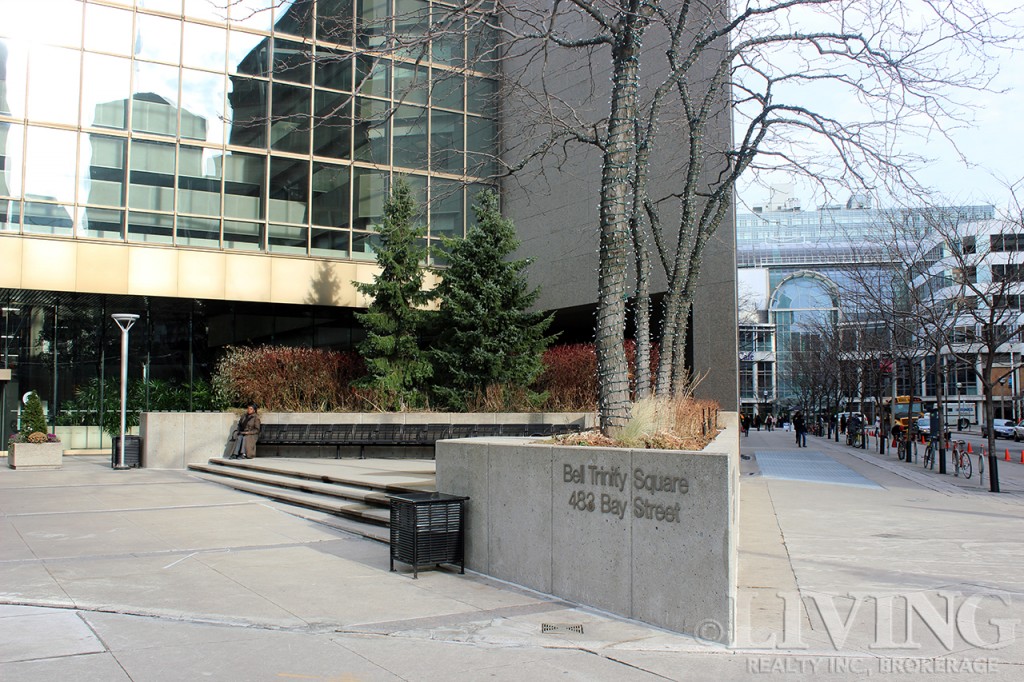 As you head east towards the Eaton Centre, you'll find Bell Trinity Square – one of Canada's most energy-efficient commercial buildings, and a 2011 Race to Reduce award winner in the "Lowest Energy Use" category for buildings over 500,000 square feet.
In a city like Toronto, there's no better place to do business than the downtown core – and with quick walking access to major commercial streets like University Avenue, Bay Street, and Queen Street West, and direct access to mass transit options like TTC Subways and streetcars, Nathan Phillips Square is truly at the heart of the action.
Living in Heart of the Discovery District: Homes near Nathan Phillips Square
In addition to offering a mix of exciting public spaces and commercial real estate, the area around Nathan Phillips Square also offers a fantastic array of condos for those who value a prestigious downtown address.
Just a quick walk northwest of City Hall, you'll find the site of Tribute Communities' brand-new Residences at RCMI – a high-rise condominium community set to begin occupancy in early 2014. Designed by Ziedler Partnership Architects, this building was planned to adhere to LEED standards and offers valued amenities including a gym and 24-hour concierge.
One of the newer existing buildings in the area is 111 Elizabeth Street (One City Hall), a Diamante Developments high-rise project featuring 523 luxury condominiums at one of the city's most prestigious addresses. Six levels of underground parking and a ground-floor Loblaw's market offer convenience for residents, while the building's Walk Score of 100 serves as a strong testament to the neighbourhood's appeal and charm.
In the very north end of this neighbourhood – up towards College Street – you'll find quite a few spectacular condo buildings, such as Lumiere (completed in 2012) and The Conservatory.
With their exceptional access to downtown hotspots and prime commercial space – not to mention world-class health care facilities like the Hospital for Sick Children located just steps to the north and Mount Sinai and Princess Margaret Hospitals to the west – condos in the Nathan Phillips Square area also make for excellent rental-income investment properties.
Buying a Home or Commercial Space near Nathan Phillips Square
While the Nathan Phillips Square/Trinity Square area might be one of Toronto's more thoroughly-established neighbourhoods, it's also bustling with real estate activity. Condos, offices, and rental-income opportunities are frequently listed for sale or lease in this area – and there's no better time to take a look than this spring.
When looking at a downtown area like the Discovery District, your best bet is to get some help from a sales representative or broker who knows the area and has experience buying, selling and leasing within its buildings. We recommend getting in touch with a member of the team at Living Realty Inc., Brokerage, who can help you get a feel for what's available and answer any questions about the area that you may have.