MISSISSAUGA REAL ESTATE – The area around Mississauga's famous Square One Shopping Centre is surrounded by many of the city's most well-known visual landmarks. Within just a few blocks, you can find Mississauga's Civic Centre, the vibrant Living Arts cultural centre, Celebration Square, and many of the city's busiest corporate buildings.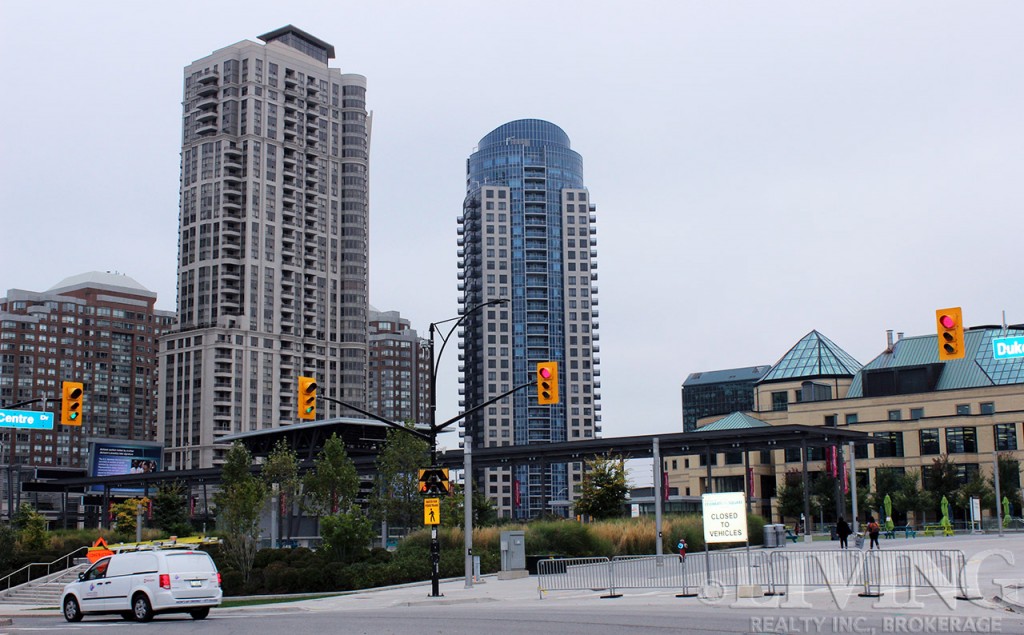 With the population of Mississauga continuing to grow rapidly in recent years, the area has also become a hotbed of high-rise residential development, attracting visually-striking projects like the world-renowned Absolute Towers and Pinnacle International's Grand Park Towers.
History of the Square One Neighbourhood
The land underneath Mississauga City Centre's colossal Square One Shopping Centre was actually a farm. Owned by Charles Wilcox during the 19th century, in 1926 the farm was sold to Robert Norman Carr and his wife, who primarily produced dairy goods at the site until selling the land in 1960. During those early farming years, the area – currently a hub for both GO Buses and Peel Region public transit – was also one of the areas passed through by the now-defunct Toronto Suburban Railway.
When the mall opened for business in 1973, it caused a massive public stir – drawing a crowd of 160,000 visitors and wreaking traffic havoc on both Highway 10 and Burnhamthorpe Road.
More than two decades later in 1987, the mall was joined by the Mississauga Civic Centre just across the road to the west. With its distinctive bell tower and striking exterior facades, the Civic Centre became a recipient of the Royal Architectural Institute of Canada Governor General's Medal – Canada's highest honour for architectural design.
Homes in Square One: Scarborough's High-Rise Central
Mississauga's City Centre has already become renowned as a hub for exceptional building design, and many of the high-rise condominiums constructed in this neighbourhood feature both striking architecture and a high degree of livability.
Here are a few of our favourite new and existing projects in the area:
Absolute Towers
These iconic condominium buildings caught the attention of the international design world with a stunning architectural exterior that doubles as an optical illusion – earning them the local nickname of "Marilyn Monroe Towers" (for obvious reasons).
These highly sought-after condominium towers were honoured as recently as last month, when their design – the result of collaboration between MAD Architects and Burka Architects – won the Emporis Skyscraper Award for 2012.
"The way the two structures twist organically by up to 8 degrees per floor is not just a superb technical achievement, but also a refreshing change to the set forms of high-rise routine," said the panel of experts who judged the designs in the competition.
The Absolute Towers' 881 units range in square footage from 490 to 3,500, and the community's various amenities include squash courts, indoor & outdoor pools, 24-hour concierge and more. This exceptional project was brought to fruition by highly-reputed local developer Fernbrook Homes, and marketed by the Living Group of Companies' own International Home Marketing Group.
PSV 1 & 2
Representing the newest high-rise addition to Amacon's successful Parkside Village master-planned community, PSV 1 & 2 are twin condominium towers currently under construction near the intersection of Burnhamthorpe Road and Confederation Parkway.
The two towers' elegant condominiums feature a range of high-quality finishes such as marble countertops, custom-designed cabinetry, and wide-plank hardwood flooring. Amenities include a rooftop terrace (with tennis court!), indoor swimming pool, fitness centre, billiards room and more.
The Towns at Parkside Village
Designed by award-winning EI Richmond Architects, The Towns at Parkside Village is the latest and lowest of Amacon's additions to the development. Offering a total of 68 condominium townhouses starting from the mid $500,000s, this community is an outstanding buy for young families.
These special homes' many features and design touches include rooftop patios, upgraded countertops & sinks, and retreat-inspired master suites. The Towns also boasts its own underground parking facilities, making life simpler and safer for vehicle owners.
Grand Park I & 2
Grand Park and Grand Park 2 represent Pinnacle International's newest contribution to the Mississauga skyline, located at the intersection of Grand Park and Burnhamthorpe Road just a couple of blocks west of Celebration Square.
When complete, the first (northernmost) tower will boast 28 storeys of condominiums, while Grand Park 2 will offer a whopping 48 storeys of high-rise homes. Amenities in the Grand Park community include pool & fitness centre, caterer's kitchen, party & games rooms, yoga room, outdoor terraces and more.
Square One Shopping Centre: Nearly 2 Million Square Feet and Counting
As one of the largest indoor malls in all of Canada, Mississauga's famous Square One Shopping Centre is as iconic as it is popular. Featuring more than 360 retailers and 1.8 million square feet of retail space, Square One is one of the GTA's premiere shopping destinations, featuring luxurious fashion retailers such as Michael Kors and Zara alongside tough-to-find favourites like Wholefoods and Crate & Barrel.
Next month, Square One will complete its $84-million initiative to construct a northwest expansion, which includes desirable retailers like Ann Taylor, Loft, Lacoste, and Target. The Shopping Centre is also working on a 120,000-square-foot "flagship" store for popular fashion chain Holt Renfrew – which will bring added value and new jobs to the neighbourhood when it opens in spring 2016 (per developers' estimates).
Schools near Square One
Residents of the City Centre neighbourhood are just a short distance away from a variety of elementary schools, including Fairview Public School and Huntington Ridge Public School. For Catholic school students, Sts. Peter and Paul Separate School is just a short drive east on Rathburn Road.
Square One neighbourhood residents generally attend two high schools, both of which are located a short trip south of the shopping centre.
Father Michael Goetz Secondary School
Located in a quiet residential area at the intersection of Central Parkway and Confederation Parkway, Father Michael Goetz Secondary School is home to more than 1,600 students and a rich history dating back to 1990.
Father Michael Goetz S.S.'s students also have a solid reputation for academic success. Over the 2012-13 schoolyear, 88 per cent of the school's grade 9 students enrolled in academic mathematics met or exceeded the provincial average for EQAO mathematics testing (compare against 84 per cent across the entire province).
Thomas L. Kennedy Secondary School
Named after a prominent former Minister of Education, Thomas L. Kennedy Secondary School enjoys a very central location right on Hurontario Street. It offers students a huge range of extracurricular activities including community involvement opportunities, athletics programs, and innovative clubs such as the TLK Rock Band.
T.L. Kennedy is also home to the innovative and exciting International Executive and Leadership Academy, a four-year program offering youth the resources to build leadership skills early on in life.
Buying a Home in Mississauga's City Centre
With the coming shopping centre expansion en route, as well as increasingly efficient transit options with the upcoming arrival of the BRT Transitway, there has never been a better time to look at purchasing a home in this exciting central neighbourhood of Mississauga. With a wide range of home types and sizes available, there is an option available to meet the needs of any buyer's needs and budget.
To learn more about the neighbourhood, or get a look at some of the exciting listings currently for sale near Square One, we encourage you to contact our branch office in Mississauga, where we have been proudly serving the City of Mississauga for over 20 years. One of our sales representatives or brokers – many of whom have extensive experience and knowledge of central Mississauga – will be happy to answer your questions and help you find a great fit.